Phelps and Bartholomew
The Kroeber and Standard Electric Time Connections
by Jeffrey R. Wood
Currently I am researching the history of Phelps and Bartholomew, a little-known but important Ansonia, CT maker of nickel-plated alarm clocks in seamless brass cases, which was very active in the 1880's. To date I have examined over 2 dozen examples of this company's products.
Anson G. Phelps, the wealthy industrialist after whom Ansonia, Connecticut is named, who began his association with the newly formed Ansonia Clock Co. as its principal stockholder in 1850, and who died in 1853, had many descendants. It is easy to speculate that around 1880 when the prosperous Ansonia Clock Co. was in the midst of re-establishing itself in New York, certain clockmaking members of the Phelps family wished to remain in Ansonia and thus, in association with A. H. Bartholomew-- another surname well-known in the Connecticut clock business-- established at Ansonia an entirely new manufacturing operation. These determined men began by successfully producing the simplest of clocks: 30-hour round metal-cased bell-on-top alarms, made in exactly the same manner as the Ansonia Clock Co. product which utilized a heavy cast iron frame joining together the movement, dial, case, bell post and legs-- but with no parts absolutely identical to those made by their overshadowing competitor. However, no definite relationship among either family has yet been established.
Phelps & Bartholomew is believed to have started up around 1880 and by 1882 was quite active in the alarm clock business, but did not incorporate until 1886, with a capital of $15,000.00. Albert Phelps is listed as president, with Howard D. Phelps as secretary and A. H. Bartholomew as treasurer. Address given is Gardner's Block, 93 Main Street, Ansonia, Conn. and later changed to 287 Main Street. Also doing business at Gardner's block were John B. Gardner's sons, Sturges C. and Louis F., as "mfr's of clock dials and all kinds of clock trimmings, scale dials and sash, brass butts and hinges".
Only about half of these early alarm clocks bear any indication as to who made them; some have just the P&B trademark on the dial; a very few have the maker's name spelled out and the others are totally nameless. In addition to an advertised specialty of "movements to order", the company also made toy and water meter movements along with straight timepieces, one model of which featured a 24-hour dial.
P&B supplied some clock movements (if not complete alarm clocks) to Florence Kroeber, although Kroeber was in business earlier than P&B, so thus necessarily used movements from other sources as well. I have seen movements made by both P&B and the Jerome or New Haven companies with plates stamped "F. KROEBER N. Y.", or its equivalent, so the Kroeber stamp does not necessarily indicate that Kroeber was the actual manufacturer. Kroeber's alarm clock dials were distinctively embellished with his trademark, "FK" in a circle, with the P&B movement inside bearing the Kroeber stamp. These Kroeber clocks have zinc backs bearing a patent date of May 28, 1878, with the actual patent being for the case design and making no mention of either firm. The P&B movements for most of their own clocks have the alarm trip staff in the normal position, just above center, with the alarm dial partially eclipsing the figure XII and the trip wheel driven directly from the hour wheel in a counterclockwise direction, while the movements for Kroeber usually have the corresponding assembly near the bottom beside the balance, with trip wheel driven in a clockwise direction by the intermediate motion pinion, and the alarm setting indicator on back. Oddly, both arrangements require that the alarm dial numerals appear in reverse order. The case design patented in 1878 does away with the internal cast iron frame; the dial is permanently attached to the case, so to get the movement out one must first remove the pressed-on bezel and hands. A punching of sheet brass takes place of the usual legs, but sometimes examples are found with cases set into a decorative cast metal surround serving also as a stand. In all such clocks the movement has provisions for being screwed directly to the zinc back. Except as noted here, the movements found in both types of case construction are otherwise identical. You can easily recognize them by their plate stampings, featuring a unique eye-shaped opening between the center wheel and balance, and curved bridging for the third wheel.
One presumably very early example of a Kroeber alarm clock is worthy of note. This 4-inch clock is regular P&B production in every way except for 2 significant differences. Its case is unplated and painted a brilliant red, and the dial has fancy Arabic numerals with extremely fine print at the bottom reading, "THE F. KROEBER CLOCK CO., MANUFACTURERS." Absent is the "FK" trademark.
The P&B firm was instrumental in the early development of The Standard Electric Time Co. which began at a nearby address in Ansonia. P&B alarm clock plate stampings are found in some of the earliest Standard Electric secondary clocks, and one style of P&B alarm clock case resembling that of a ship's clock was used by Standard Electric for its pilot clock cases until 1925, with Standard apparently having acquired the requisite tooling from P&B after the latter ceased manufacturing.
A 2-inch alarm was also produced in competition with the Ansonia "Bee", Waterbury "Wasp" and New Haven "Sting" alarms. It seems likely that the doubtless considerable expense of tooling up to make this little clock depleted the company financially, making examples of this 2-inch clock among the rarest of manufactured American alarm clocks. A time-only version of the P&B 2-inch movement is occasionally found in porcelain and possibly other novelty cases.
Recently a non-alarm clock containing an 8-day time-and-strike pendulum movement bearing a Phelps & Bartholomew stamp on its back plate has turned up. This is a cast metal-cased clock with a front-mount, rear escapement movement. A Kroeber "gingerbread" clock has been located containing an identical movement except for being rear-mount with front escapement, and "F. KROEBER CLOCK CO. NEW YORK" stamped on its front plate. The possibility has been raised that P&B made 30-hour pendulum-type time and strike movements as well. Could Florence Kroeber have owned stock in the Phelps and Bartholomew Company?
P&B appears to have remained in business at least until 1905, at which time the name of Theodore L. Bristol, 285 Main Street, Ansonia, Conn., was given as Trustee.
~ ~ ~ ~ ~ ~ ~ ~ ~ ~ ~ ~
Here is a list of clock movements made by Phelps & Bartholomew of Ansonia, CT and pictured in Tran Duy Ly's KROEBER CLOCKS (arlingtonbooks.com 2006).
Numbered illustrations in "Movements" section:
1937 (wrong alarm key), 1942-43, 1946, 1947, 1955, 1958, 1965-66, 1967-68, 1969, 1971, 1973-74 and 1986. Most of these movements have the Kroeber name stamped somewhere on one of the plates.
~ ~ ~ ~ ~ ~ ~ ~ ~ ~ ~ ~
Jeffrey R. Wood research results, updated 21 AUG 07
Phelps & Bartholomew movements discovered so far; PB = found in Phelps & Bartholomew clock; FK = found in F. Kroeber clock:
Lever movements:
Common size square alarm; rear mount with trip staff beside balance wheel (PB, FK)
Same as above, calendar version (FK)
Common size square alarm; front-mounted on round cast iron frame with trip staff above center (PB, FK)
As above, timepiece version (PB)
Timepiece version, 24-hour dial (PB)
2-inch round alarm, 2-layer (PB)
2-inch round timepiece* (PB)
"Grandfather" quarter-second increment interval timer (FK)
Pendulum movements:
30-hour T&S, rear wood block mount, unsigned (FK)
8-day regulator timepiece, rear mount (FK)
8-day musical, front mount (FK)
8-day T&S:
Rear mount "kitchen clock" (FK)
Front mount, decorated back plate (FK)
Front mount, plain back plate (FK)
Front mount, plain back plate, signed (PB)
Front mount, visible escapement (FK)
Front mount, escapement between plates (unsigned)
* This movement could easily be adapted for use in a dollar watch, and was probably designed with that in mind. But was it ever done?
Jeffrey R. Wood
Source References:
ANSONIA CLOCK COMPANY by Chris H. Bailey, FNAWCC, published in Tran Duy Ly's ANSONIA CLOCKS & WATCHES, Arlington Book Company, Inc., 1998
Ansonia, Birmingham, Derby and Shelton Directories, 1882-1905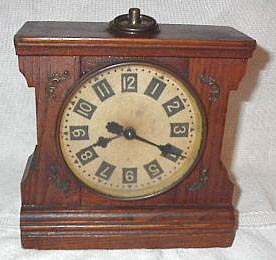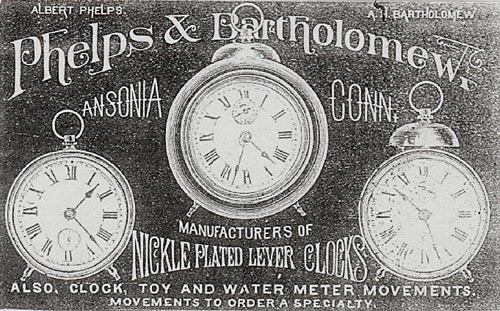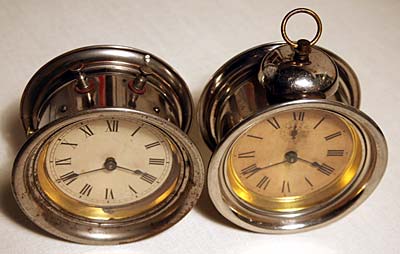 From THE HISTORICAL, STATISTICAL AND INDUSTRIAL REVIEW OF THE STATE OF CONNECTICUT.
New York: W. S. Webb & Co., Publishers, 49 & 51 Park Place, 1884.
PART III, Ansonia section, Page 394
Phelps & Bartholomew,
Manufacturers of Nickel Plated Lever Clocks, etc.---Among the comparatively new concerns we would call especial attention to the manufacturing establishment of Phelps & Bartholomew, engaged in producing nickel lever clocks, also clock, toy, water meter and bicycle bell movements.
Mr. Albert Phelps, senior member of the concern is a thorough, practical clock maker, having been in the business upwards of thirty years. He began at the beginning and has worked his way to the top of the ladder, and is thoroughly conversant with the making of movements. Mr. A. H. Bartholomew was in the employ of the Ansonia Brass and Copper Co. for thirteen years and for the greater part of that time was identified with their clock department. The above gentlemen formed the partnership of Phelps & Bartholomew in 1881, with the determination of fully sustaining the reputation of the world renowned Ansonia clocks made by the Brass and Copper Company during their connection with the concern. They now occupy the third floor of J. B. Gardner's factory, covering an area of 200 x 30 feet, and will increase their facilities as fast as the trade demands.
Their clocks, the wooden and signal, are thoroughly reliable, and superior to any lever clocks in the market. Mr. Phelps was born in Marlborough, Conn., and is forty-three years of age. Mr. Bartholomew was born in Ansonia, and is thirty-two years of age. Both of these gentlemen are genial and courteous, men of strict business integrity, and enjoy the confidence and esteem of their fellow citizens.
And from Pages 396-397 of the same publication:
John B. Gardner & Son,
Manufacturers of Clock Dials, etc.---This industry was established in 1857, by Mr. John B. Gardner, the head of the present firm. The manufacturing is now done on the second floor of the firm's handsome and substantial brick building on Main Street. The products of the firm are clock dials, all kinds of clock trimmings, scale dials, and sash, brass and nickel mattings and trimmings for cabinet picture frames. Mr. Gardner has patented a sunken centre dial, in imitation of the famous Vienna dial, which gives a richer appearance to clocks than the ordinary dial, and the demand for which is very large. About forty employees are kept constantly busy, and many ingenious devices have been introduced by Mr. Gardner, which are not to be found in any other manufacturing establishment. From a building 100 x 40 feet in area, Mr. Gardner has from time to time built additions until now he owns the finest manufacturing property in town, outside of the large corporations. The lot upon which his buildings are located is 101 feet front by 190 feet in depth, and the fine brick structure used for manufacturing purposes, and a large portion of which he leases to other manufacturing firms covers the area of 22,800 feet of flooring. In addition to this large interest, he has recently erected a business block, which bears his name, and in the lower story of which are some of the finest stores in town. This block covers the entire front of his property, 101 feet, and runs back to a depth of fifty-two feet. It is two stories in height, and the whole second story was fitted up for, and is occupied by the Y. M. C. A. of Ansonia, and this association may well feel proud of the suite of rooms which are so well arranged and handsomely fitted up for them, according to the excellent taste and judgment of Mr. Gardner. The floors and trimmings throughout are of Georgia pine, the walls painted and the ceilings handsomely frescoed. The furniture is in keeping with the building. The rooms, consisting of parlor, reading-room, lecture-room, and gymnasium, are open to the public daily, and the gentlemanly secretary is always in attendance to receive strangers and to attend to the duties of his office. Mr. Gardner is a native of Germany, fifty-six years of age, but has resided in this country many years. He has never sought any political office, but when elected has performed his duties to the best of his ability, which is by no means limited. He is the present warden of the borough and during his administration has made many improvements, and exhibited rare executive ability, doing his duty, as he sees it, without fear or favor. He has been a trial justice for a number of years, and in this capacity has ameliorated the condition of many, and by his kind but positive manners, checked much of the vice of intemperance which has proved such a curse in many homes. He is a self-made man, and may well look back with pride over a life of industry, honesty and integrity, which have placed him in the high position he fills both in the business and social circles, and the example he has set may well be emulated by the rising generation. He is ably seconded in his business affairs by his son, Sturges B. Gardner, a young man of twenty-four years, who is well-known and popular among all classes of the community.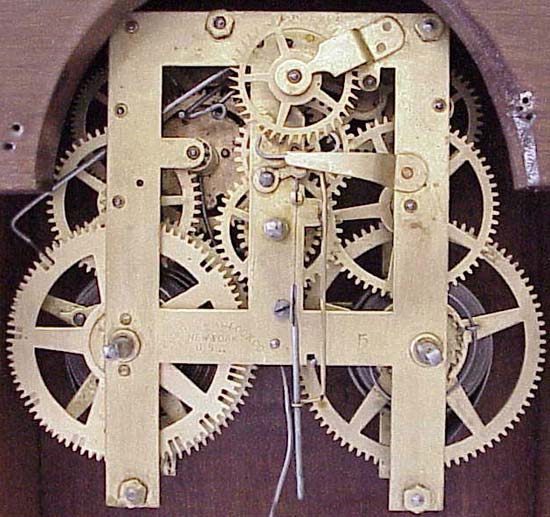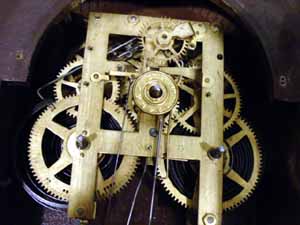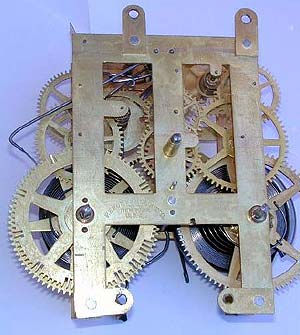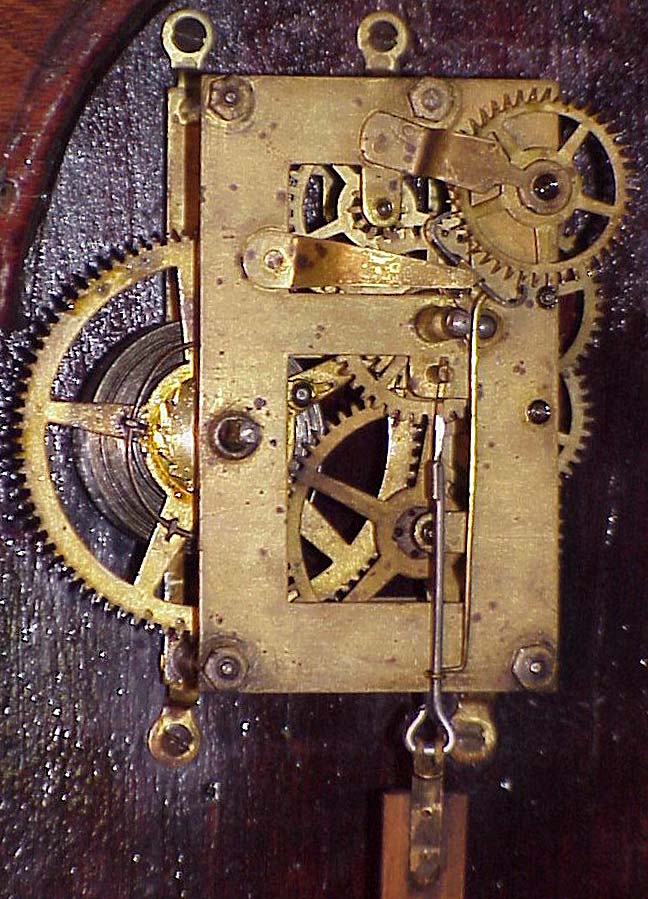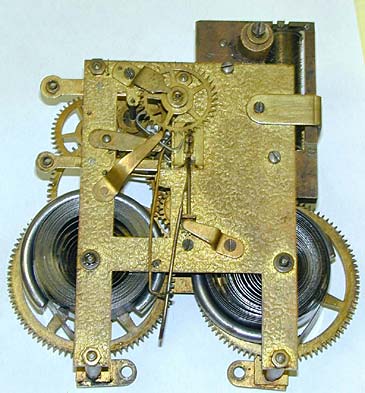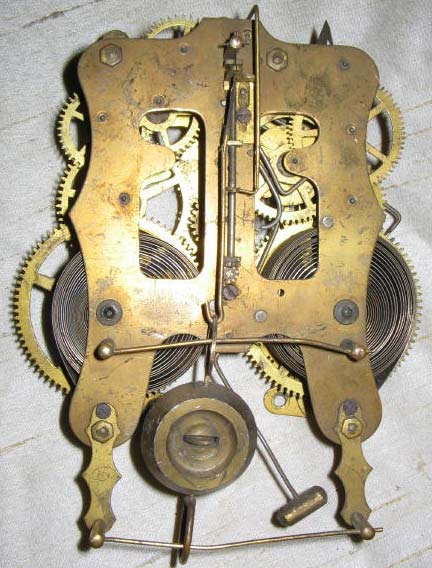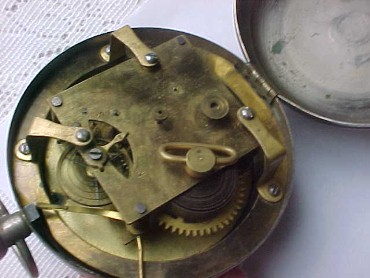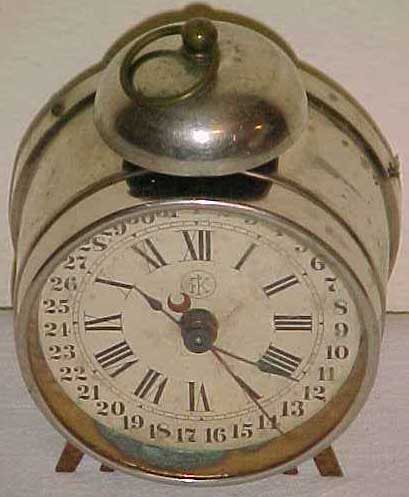 ~ ~ ~ ~ ~ ~ ~ ~ ~ ~ ~ ~
Jeffrey R. Wood, creator of the Standard Electric Time Co. (SETCO) pages of clockhistory.com, passed away in August of 2018. I will maintain the SETCO web pages in honor of Jeff, but will not be making any additions or changes, or answering any questions. It is hard to express how much I miss Jeff, his friendship, and his wonderful contributions to Standard Electric and Westclox research.
Bill Stoddard