There are 12 styles in the Westclox Baby Ben Alarm Clock Style Series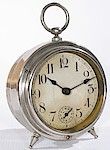 Characteristics:
Ring on top, no name on dial, alarm dial is at the 6:00 position, round winding key handles that fold down, short rear leg, patent dates are stamped in circular form.
Dates made:
1910 - 1912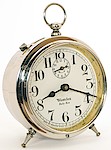 Characteristics:
Ring on top, two feet in front, alarm dial at 12:00 position.
Dates made:
1912 - 1930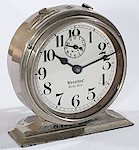 Characteristics:
Thin edge around base, has steady-repeat and alarm-silent levers on top of case.
Dates made:
1927 - 1932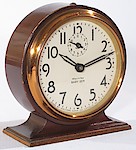 Characteristics:
Concave curves on base (curves on front, rear and the sides).
Dates made:
1932 - 1934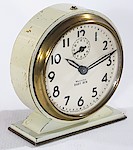 Characteristics:
The base has two convex curves (one on each side).
Dates made:
1934 - 1939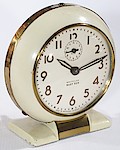 Characteristics:
Streamlined round case, rectangular base with polished brass or nickel plated steel plate. Looks like a Honeywell "round" thermostat mounted on a base. Numeral "12" partially cut away to make room for the alarm dial.
Dates made:
1939 - 1949
Characteristics:
Smaller base than style 5, without the polished metal plate. Small alarm hand at "12" with full numeral 12 showing.
Dates made:
1949 - 1956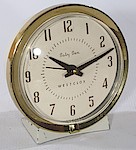 Characteristics:
Concentric alarm hand, plastic lens.
Dates made:
1956 to 1964 (and 1976)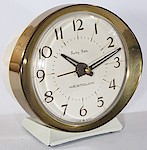 Characteristics:
Oval metal bezel.
Dates made:
1964 - 1981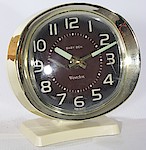 Characteristics:
"Squared" oval plastic bezel
Dates made:
1980 - 2000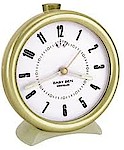 Characteristics:
Made in China, sweep second hand, top alarm shutoff, rotating alarm dial visible below the numeral "12".
Dates made:
Starting in 2001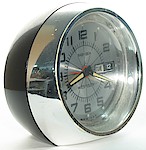 Characteristics:
Spherical plastic case with flat bottom
Dates made:
1976 - 1981