Westclox Baby Ben Style 1 Alarm Clock
Date Summary:
1912 - 1930


Characteristics:
Ring on top, two feet in front, alarm dial at 12:00 position.


Style Information:
Celluloid dial 1912 - 1914
White dial: 1914 - 1930
Black luminous dial: 1918 - 1930
Examples through mid-1916 have lower case b in "baby". "Westclox" added to the dial in 1917. There are other variations in the dial lettering.
Baby Ben Style 1 Alarm Clock Variations
Baby Ben Style 1 -> Back Type
Baby Ben Style 1 -> Center Pinion Construction
Baby Ben Style 1 -> Dial
Baby Ben Style 1 -> Hairspring Material
Baby Ben Style 1 Alarm Clock History
The "baby Ben Two Inch" proved to be unsatisfactory, and was replaced with the Baby Ben Style 1 in 1912. The following information was summarized from Westclox department reports.
The engineering report from first quarter 1911 states "NEW CLOCK DRAWINGS – LITTLE BEN REPEATER. Drawings have been started on this new clock and some have been delivered to the tool room." The 2Q1911 report states "The Little Ben Repeater drawings are completed."
The 2Q1911 and 3Q1911 reports list many tools made for "Little Ben Repeater." The 4Q1911 report again lists many tools for this clock and then states "We have about completed the Tools for Little Ben Repeater." At this point the name "baby Ben" must have been applied to the "Little Ben Repeater", as the advertising department states in their Jan. 13, 1912 report: "The manufacturing department is working on a new baby Ben which will be brought out in the future and a campaign of advertising and sales will be inaugurated as soon as a sufficient stock can be accumulated to provide for the demand created by such a campaign. It will certainly be necessary to have sufficient room to take care of these in the same manner as Big Ben (packing, labeling and boxing.)" Also, the 1Q1912 tooling department report lists more tools for "baby Ben" and states that "The baby Ben tools are completed." However, tool reports for the next three quarters list more tools made for baby Ben, but these may have been improved versions of existing tools, or duplicate tools for increased production.
The Jan. 27, 1913 sales report states "baby Ben shows the greatest increase, running over 100%. The new model of this clock was available in limited quantities about Sept. 1 [1912], but as a sufficient stock could not be made up it was decided to wait until this year to push it strongly." Evidently, the clock was not as reliable as desired, so more improvements were made, and baby Ben was not officially introduced to the public until advertised on page one of the September 25, 1915 Saturday Evening Post.
Jeffrey Wood has documented 3 major types of early baby Ben Style 1 movements:
Type 1) Going barrel for both time and alarm mainsprings, time mainspring is 1/4" wide. Time key has female thread.
Type 1a) Time barrel changed to winding (or safety) barrel to avoid center pinion damage when the mainspring breaks. Time mainspring width 7/32". Time key has male thread. This movement was made for a very short time in the fourth quarter of 1914.
Type 2) Time mainspring width increased to 5/16" by using a "domed" time barrel bridge to gain height and making the clock 1/8" thicker. The wider mainspring was made thinner and the length was increased, thus providing adequate power for well over a day.
Movement types 1 and 1a were not much more satisfactory than the Two Inch baby Ben movement. The type 2 movement was more satisfactory and was used until being replaced with a new design in late 1926.
In late 1926 the case pendant was changed from oval to round, and the rear leg was changed from a flat to a rounded end. A new movement was phased into production during late 1926 and early 1927. The alarm barrel was changed from a going barrel to a winding barrel, and the alarm winding direction was changed to clockwise. The gearing was modified to change the beat rate from 15,000 beats per hour to 14,400 beats per hour. This movement, with and minor changes, remained in production through 1960, when it was replaced by the single key wind Baby Ben movement.
The dials on the first baby Bens are made of celluloid over paper, and the regular paper dial was used starting in the first quarter of 1914. The name on the clock was "baby Ben" until 1916 when it was changed to "Baby Ben". In 1917 the trademark "Westclox" was added above the words "Baby Ben." From 1917 to ca. 1922, "Westclox" was in italics; from ca. 1923 – ca. 1927, "Westclox appeared in Roman font with a flat-top "X", and starting ca. 1928 the "Westclox" had a loop-top "X". The company name was put at the bottom of the dial starting in late 1915.
About 1920 the luminous dial using radium paint was introduced. From that time on, Baby Bens first and then Big Bens were available with either the plain or luminous dial. A few Baby Ben style 1 clocks ca. 1927 have white painted metal dials. The style 1 Baby Ben was made until 1930.
Pictures of the Westclox Baby Ben Style 1 Alarm Clock: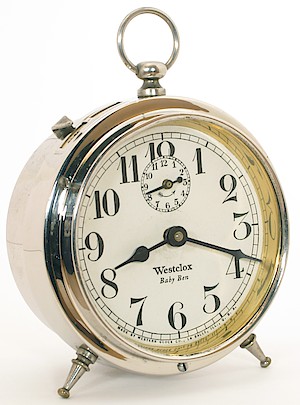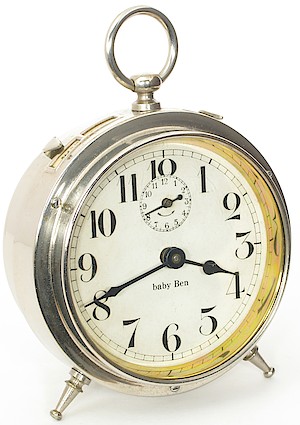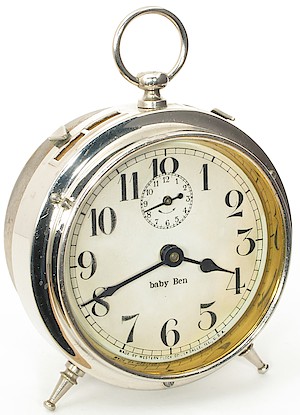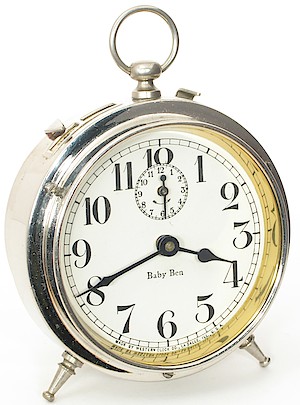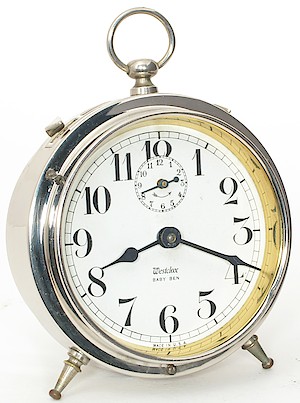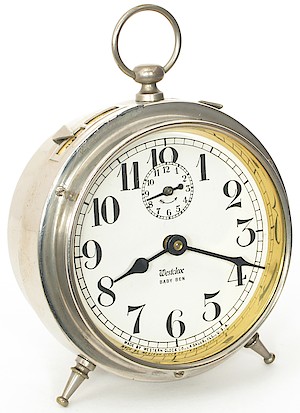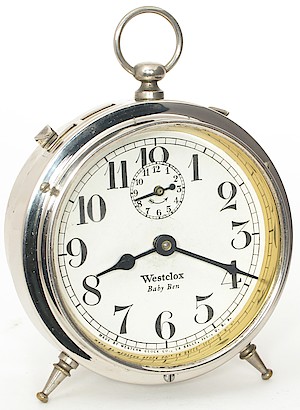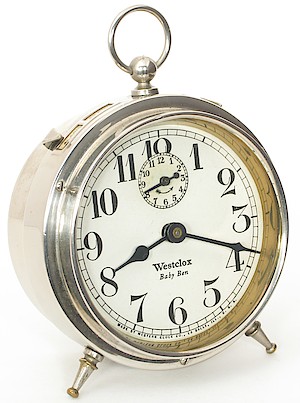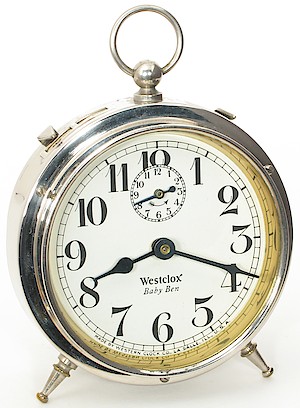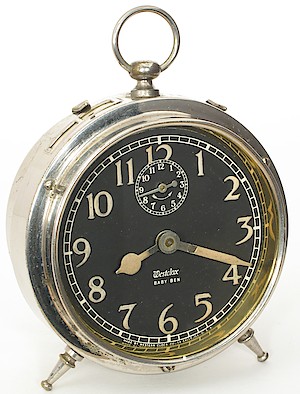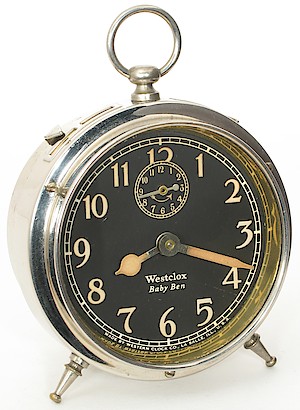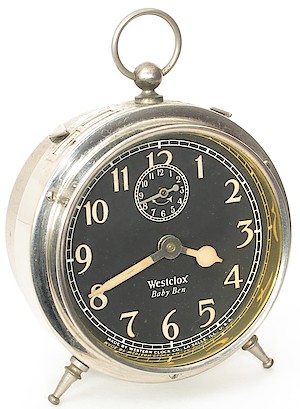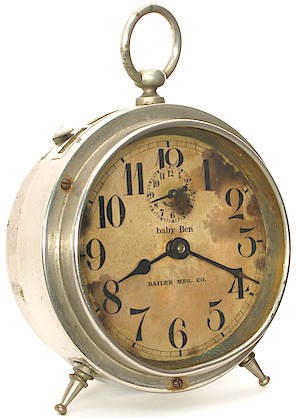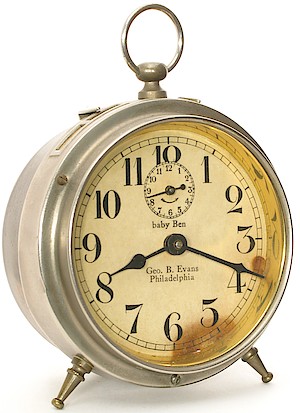 References
Sales figures: "Westclox Annual Sales Statistics Ledger", Collection 116, Box 28, held by the the Regional History Center at Northern Illinois University, DeKalb, Illinois.
A Random Sampling of baby Ben - Baby Ben - BABY BEN Production Through 1920, Jeffrey R. Wood on ClockHistory.com.
Westclox - An Identification and Price Guide, Gary Biolchini, Schiffer Publishing, 2003, ISBN 0-7643-1835-7
Western Clock Company Department Reports, Regional History Center at Northern Illinois University, DeKalb, Illinois.
The Westclox Big Ben and Baby Ben Identification Guide, Richard Tjarks and Bill Stoddard.
Research by Jeffrey R. Wood
Research by Greg Adams
Ellworth Danz, personal communication