Westclox Baby Ben Style 6
Date Summary:
1949 - 1956


Characteristics:
Smaller base than style 5, without the polished metal plate. Small alarm hand at "12" with full numeral 12 showing.


Style Information:
Gun metal case with white dial or black luminous dial
Ivory case with white dial or brown luminous dial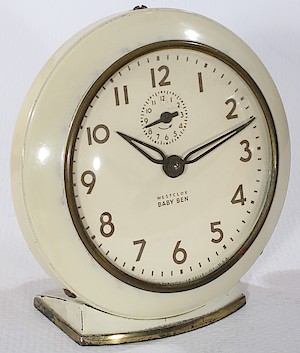 History
Henry Dreyfuss designed the style 6 case for the Big and Baby Bens, and they were introduced to the market in 1949. This design was not patented. Notice the new style of hands and that the entire number 12 is printed on the dial (previous styles had only a partial 12 due to the alarm dial).
Style 6 Baby Bens were made in gunmetal cases with nickel trim, and ivory cases with brass trim. Gunmetal cases have a white dial with black numerals or a black dial with luminous numerals. Ivory cases have either a white dial with brown numerals or a brown dial with luminous numerals.
Almost all Baby Ben movements were nickel plated up to 1951.
Style 6 was discontinued in 1956.
References