Westclox Baby Ben Futura Day Date Alarm Clock
Date Summary:
1976 - 1981


Characteristics:
Spherical plastic case with flat bottom


Style Information:
Made with black, white, silvertone and goldtone cases with various color dials. The clocks have a day-date calendar. The clock was called "Baby Ben Day Date" by Westclox (goldtone and silvertone models also carried the "Deluxe" designation), they didn't call it "Futura" as they did the Big Ben in the same case style.
Pictures of the Westclox Baby Ben Futura Day Date Alarm Clock: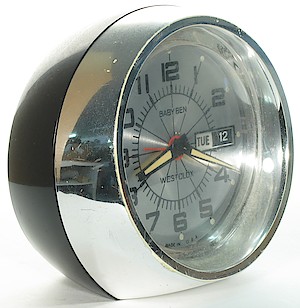 References