Westclox Baby Ben Style 3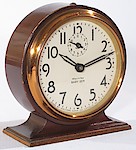 Date Summary:
1932 - 1934


Characteristics:
Concave curves on base (curves on front, rear and the sides).


Style Information:
First made with black case
Dark red case added December 1932
Ivory case added 1934
Made with plain or luminous dial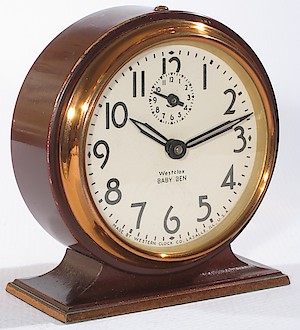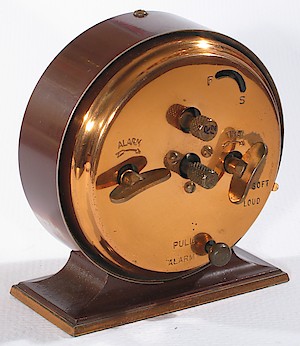 History
The Baby Ben style 3 was introduced in 1932.
Design patent 85,916 for the style 3 case design was issued to Henry Dreyfuss on January 5, 1932.
At first, it was made only in black finish with nickel trim. In December 1932, a special Christmas model Baby Ben was made. It had a dark red (sometimes called brown) finish with copper trim, and was the first Baby Ben with the loud-soft switch to control the alarm volume. This clock was so popular that it became a regular model.
Baby Ben style 3 was also made in gray finish with brass trim, and a few were made in ivory finish with brass trim.
Baby Ben style 3 was the first Ben to have a convex glass (but the Big Ben style 3 has a flat glass). The style 3 Baby Ben were discontinued in 1934. It was made for a shorter time than any other style of Baby Ben (except for the baby Ben 2 inch, which is not considered a "real" Baby Ben).
Plain or luminous dials were available. The luminous dials have outline numerals filled with luminous paint, and the luminous hands are skeleton style.
References