Telechron Type B Electric Clock Motor
The type B motor was the second type of motor that Warren Clock Company put into production. While it has more gears than the type A motor, it is more compact, has a design that allowed the lubrication to remain intact for years, and probably proved more economical to manufacture. Like the type A, type B motors for 60 cycle use have an internal rotor spinning at 3600 revolutions per minute. A gear train reduces the speed, and the output shaft rotates at 1 revolution per minute.
Instead of the two worm gears of the type A motor, a series of gear/pinion assemblies act as the speed reduction train.
Patents for the type B motor were applied for on September 1, 1920, and the motor was probably put into production at that time or earlier. Some of the type B rotors have a date stamped on them (digits for the month and year). The earliest date stamp observed so far is 1929, and the latest is a silver color M-60 rotor dated 1 33 (January 1933).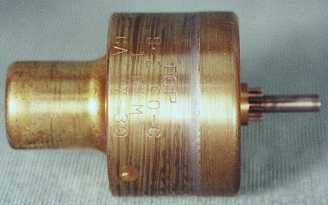 Repair tips: The type of Telechron rotor shown above has a brass housing and was made in the 1920's and 1930's. These may be opened for servicing as follows:
Hold the small end gently in a vice;
Heat the rotor using a propane torch;
When the two halves of the housing start to separate, grasp the other half in a large pair of pliers and pull it off.
When it is cool, remove the screws inside and disassemble the movement;
With a round punch, flatten out the dimples from the inside and you can work the bottom plate out.
If the heating is done quickly, the internal components of the motor will not be damaged.
Later motors cannot be opened by this method.
You will have to clean the solder off the mating surfaces with emery paper to make the housing easy to reassemble. After cleaning, repairing and lubricating the parts, push the two halves together, and run a bead of silicon caulk around the joint to seal it.
Rotors used in time only clocks often don't show much wear internally and respond well to cleaning and oiling. Sometimes a bushing or two may need to be installed. Rotors used in chiming clocks tend to have a lot of wear and will need rebuilding.
Next: Telechron type F and H motors.