Telechron Type F and Type H Electric Clock Motors
Clocks using the Telechron type F motor were introduced in 1932. The field coil unit is similar to that for the type B. The rotor unit is smaller than a type B rotor because one reduction gear was eliminated, increasing the output speed from 1 revolution per minute to 3.6 revolutions per minute. Type F rotors have a two piece housing, with the main body being a die cast piece. Type F rotors for alarm clocks have a long shaft on the output pinion, and those for time only clocks have a short shaft (thanks to Jay Kennan for clarifying this).
Clocks using the type H motor were introduced in 1937. The type H also has an output speed of 3.6 revolutions per minute. As far as I can tell, the difference between the type F and type H rotor is the housing. Some early H rotors have a long shaft output pinion, but most have the short shaft. The H motor became standard for domestic clocks, and was used for many years.
Type F1 rotor, long shaft version.
Early Type H Rotor with long shaft output pinion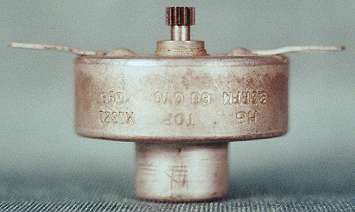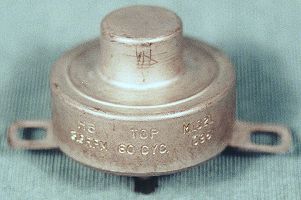 Early H Type Rotor with Mounting Feet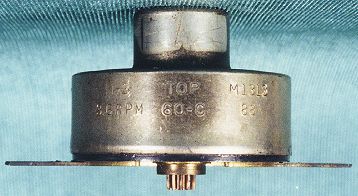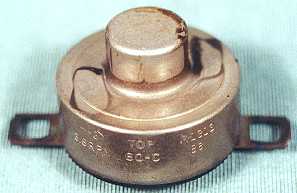 Standard H type rotor in nickel plated housing.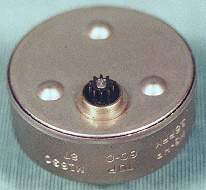 Standard H type rotor in copper housing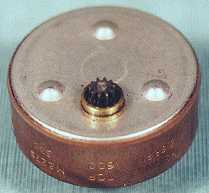 Notes:
The meaning of the designations after the motor type (such as the H3 HNK or H3-HP) are unknown to me. Likewise with the "M" number and the number under that. They may be date or batch codes.
The most recently made H rotors (from the 1970's and on) have aluminum housings.
I have two other early H rotors with mounting feet. They are labeled:
H-3 TOP M1313
3.6 RPM 60-C 99_
and:
60-3 6 710
H3 M1313
There is no company name on either rotor
Notes on type F:
I have two type F rotors with standard length output pinion. They are both labeled as follows:
60-3 6 512
F1 M519
The letter in a clock's model number indicates the type of motor it was originally designed for. For example, a 7H98 uses an H motor. Some clocks with F in the model number contain an H motor. A 7F59 contained the F1 rotor shown at the top of this page. Models 2F02, F 327*, 7F71 and 8F03 that I examined had a standard silver color H rotor. An alarm clock made for a type F motor would have been designed for the long shaft pinion. But starting in 1937 the same model would have been made to take the short shaft type H motor.
*Note on the F 327. This clock is listed as model 327 in Jim Linz's Telechron clock book. Here is a theory: Since model 327 was introduced in 1931, but the F motor was not introduced until 1932, the first ones had "B" motors. When the clock was redesigned to use the "F" motor, the F was added before the model number to identify this change.
Time only clocks made for a type F motor can have a regular type H motor put in. But alarm clocks made for a type F rotor were made for the long shaft output pinion, and needed the special long shaft H rotor when the original F rotor went bad.
Thanks to Jay Kennan for clarifying the dates of the F and H motors, and for explaining that the long shaft F rotors were for alarm clocks. Visit his Pappy's Telechron Clock Page for more history, and beautiful photos of hundreds of Telechron clocks.