Clock & Watch Advertisement: ca. 1899 Western Clock Mfg. Co. Advertisement
Date:
ca. 1899

Description:
Shows Rome, America, La Reine, La Salle, Standard, New York and Chicago calendar alarms, La Sallita, F. W. 1 and F. W. 2; with prices. The Chicago was discontinued in 1899. Also, the 1901 catalog shows the regular form of La Reine, not the early form this ad shows. [This ad shows both FW 1 and FW 2, the 1901 catalog shows only FW 1, and the 1902 catalog shows only FW 2. But, I've seen an early example of FW 2 that looks just like the one in this ad (smooth bezel, corner decorations larger but not raised as much)]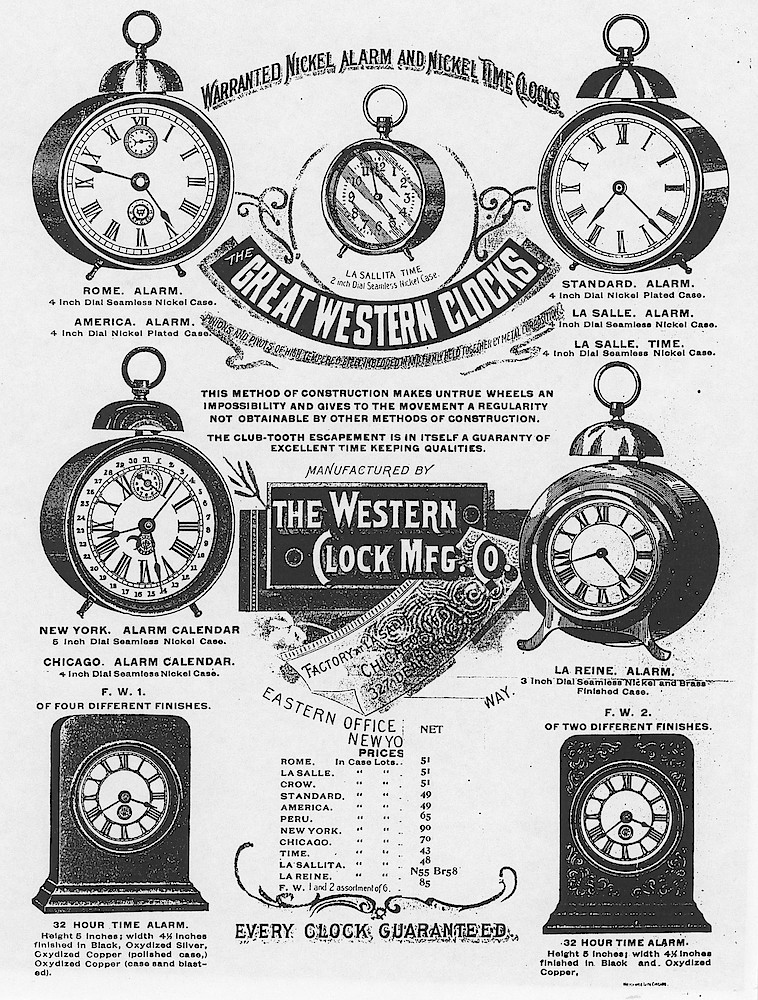 Library:
Gary Biolchini

Document Type:
Advertisement

Document PDF:
View PDF in New Window
THIS METHOD OF' CONSTRUCTION MAKES UNTRUE WHEELS AN IMPOSSIBILITY AND GIVES TO THE MOVEMENT A REGULARITY NOT OBTAINABLE BY OTHER METHODS OF CONSTRUCTION . THE CLUB·TOOTH ESCAPEMENT IS IN ITSELF' A GUARANTY OF' EXCELLENT TIME KEEPING QUALITIES. 5 lnoh Dial Seamless Nlokel Case. CHICAGO. ALARM CALENDAR. Inch Dial Seamless Nlckel Cas&. F. W. 1. OF' F'OUR DIF'F'ERENT F'INISHES. 32 HOUR TIME ALARM. CROW. STANDARD. AMERICA. PERU. NEW YORK. NET 51 51 51 49 49 65 90 LA REINE; .AL.ARM.··· a Flntehed Caee. F.W. 2. OF' TWO DIFF:ER.ENT FINISHES. .32 HOUR TIME ALARM·· Hel1rht 5 lnchHI width 4l' Inch•• flnlohed In. Black and . Oxydlzed
Copper,
CHICAQO. TIME. LA.SALLITA. .. H·elght 5 Inches; width ......Inches f inished In Black, Oxydlzed Sliver, C x y d lzed Copper lpollahed oaae,) Oxydlzed Copper (oaae sand blasted).
This document is shown for the historical record, it is not for sale.
Id Filtered: 628; Displayed Document Id: 628; Parent Document Id: 628; Document Id Hierarchy: 628; This Document's Companies: Western Clock Manufacturing Company; s_date (this document or parents): 1899-07-01; Url: 1;