Westclox Rome Alarm Alarm Clock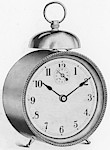 Description:
Seamless nickel plated brass case. Alarm dial in front.
Model Name:
Rome Alarm
Date Summaries:
Introduced:
Discontinued:
Price Summaries:
Low Wholesale:
$0.51
(USD)
High Wholesale:
$0.58
(USD)
Motive Power:
Spring
Model Type:
Clock
Company:
Westclox
Usage Locations:
Shelf
Functions:
Time
,
Alarm
Specifications:
Case Material:
Nickel plated brass, seamless
Dial Material:
Paper
Dial Nominal Diameter:
4 inches
Quantity Produced:
98,052
History
1901 catalog says "Made especially for the jewelry trade." "Case and back made of one seamless stamping." "The neatest 4-inch Alarm on the market. Recommended to dealers who do not wish to sell the cheapest Alarm Clock."
References
Documents Showing the Westclox Rome Alarm Alarm Clock:
This item is shown for the historical record, it is not for sale.
Page Created: 2013-10-05 Page Modified: 2013-10-05