Clock Case
Summary:
Cast front clock case with the figure of a woman supporting a shield.


Patent Dates
Application Date:
1897-01-16
Issue Date:
1897-02-23
Patent Numbers
Patent Number:
Des. 26671
Serial Number:
619494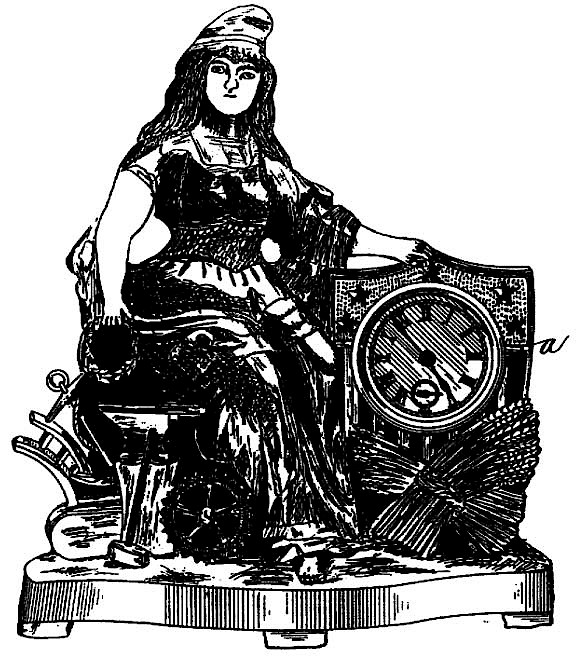 Description:
"The principal feature of my design consists of the figure of a woman symbolizing America supporting a shield, with her left hand bearing start and stripes, the central feature of which is a clock-face."
"Referring to the drawing, a represents the figure of a woman in a sitting posture wearing the usual drapery, with the folds of a flag over her left arm and across her lap. Her hair hangs loosely over her shoulders, a liberty-cap surmounts her head, and an olive-wreath is grasped in her right hand. With her left hand she supports a union shield a' bearing the stars and bars and having a clock-face as its central feature. At the base of the shield are two crossed sheaves of wheat. At the right of the figure in the foreground are represented a plow, an anchor, an anvil, a hammer, and a gear-wheel, symbolizing agriculture, commerce and mechanics."
Inventor Information:
Charles D. Golden, of Chicago, Illinois.


Patent Type:
Design


Patent Country:
United States


Patent Category:
Clock Case


User:
Golden Novelty Company


Patent Personnel
Inventor:
Golden, Charles
Witness:
Fletcher, D. H.
Witness:
Dunham, W. F.
Attorney:
Fletcher, D. H.
Patent URLs:
U.S. Patent Database; Google Patents