Manufacture Of Clock Works
Summary:
The basic Westclox manufacturing process where brass and steel parts are fastened together by an alloy of lower melting point that expands as it solidifies.


Patent Dates
Application Date:
1885-06-01
Issue Date:
1885-09-22
Patent Number:
326602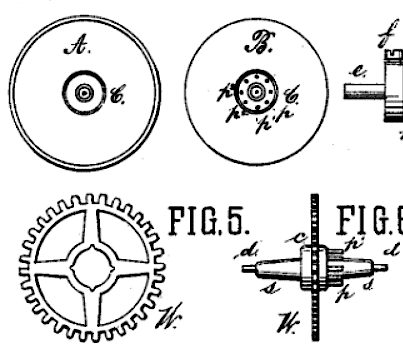 Description:
The brass and steel parts are secured by friction, or the parts may be nicked if necessary. The alloy should contain antimony or bismuth, preferably both, to give it hardness and the quality of expanding on solidifying. Type metal, to which a little bismuth is added answers well. Most any alloy which has a comparatively low melting point and possesses the property of expanding on solidifying will answer my purpose.
Inventor Information:
Charles Stahlberg, of Waterbury, Connecticut.


Patent Type:
Utility


Patent Country:
United States


Patent Category:
Clock Technology


User:
Westclox


Patent Personnel
Inventor:
Stahlberg, Charles
Witness:
Reston, Thomas
Witness:
Paton, William
Witness:
Bannatyne, Archibald
Patent URLs:
U.S. Patent Database; Google Patents