Stem Winding And Setting Watch
Summary:
Watch Number 1, in which you push in the crown to set the hands.


Patent Dates
Application Date:
1894-08-31
Issue Date:
1895-07-23
Patent Numbers
Patent Number:
542984
Serial Number:
521800
Notes:
I can't read the name of the attorney who signed the drawings. Could be Francis W. Parker? Senftleben is spelled Seuftleben in the witness list at the end of the patent.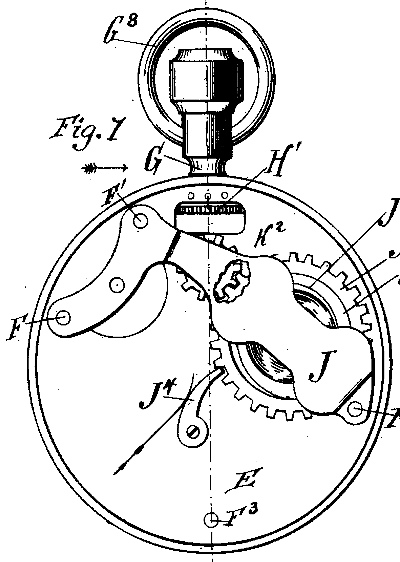 Description:
Used in Watch Number 1. The normal, outward position is winding. Push the crown in and turn to set the hands. When released, the crown returns to the winding position.
Inventor Information:
John G. blessing, of La Salle, Illinois, Assignor to The Western Clock Manufacturing company, of Same Place


Patent Type:
Utility


Patent Country:
United States


Patent Category:
Windup Watch


Patent Companies
Assignee:
Western Clock Manufacturing Company
User:
Westclox
Patent Personnel
Inventor:
Blessing, John
Witness:
Senftleben, Otto
Witness:
Paton, William
Witness:
Gunthorp, Walter
Witness:
Reinke, Arthur
Patent URLs:
U.S. Patent Database; Google Patents


Patent Uses:
Westclox Watch Number 1