Westclox Watch Number 1 Pocket Watch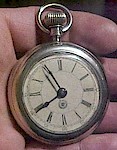 Description:
Stem wind and set. Uses watch movement number 1. (Watch movements 2 and 3 were stem wind but back set.)
Model Name:
Watch Number 1
Date Summaries:
Introduced:
Discontinued:
Motive Power:
Spring
Model Type:
Watch
Company:
Westclox
Usage Locations:
Pocket
Functions:
Time
Specifications:
Case Material:
Nickel plated brass
Dial Material:
Paper
Dial Numeral Type:
Roman
Country of Origin:
USA
References
The Watch That Made the Dollar Famous - Encyclopedia of Dollar Watches, George Townsend, 1974, Arva Printers, Arlington, VA.
Pictures of the Westclox Watch Number 1 Pocket Watch:
This item is shown for the historical record, it is not for sale.
Page Created: 2012-06-04 Page Modified: 2012-06-25