Clock & Watch Catalog Page: Westclox, Canada 1936 Catalog > 7
---
---
Date:
1936

Description:
Contains a letter dated March 9, 1936. Catalog size 9" x 12". Western Clock Company, Limited, Peterborough, Ontario (Canada). Note on the last page: All the clocks and watches illustrated in this folder are made in Canada, with the exception of Pickwick and Handbag Watch shown above, which are imported.
Ben Bolt electric, Electric Wall Clock, Ben-Hur (looks like the USA Ben Franklin Electric), Country Club Electric.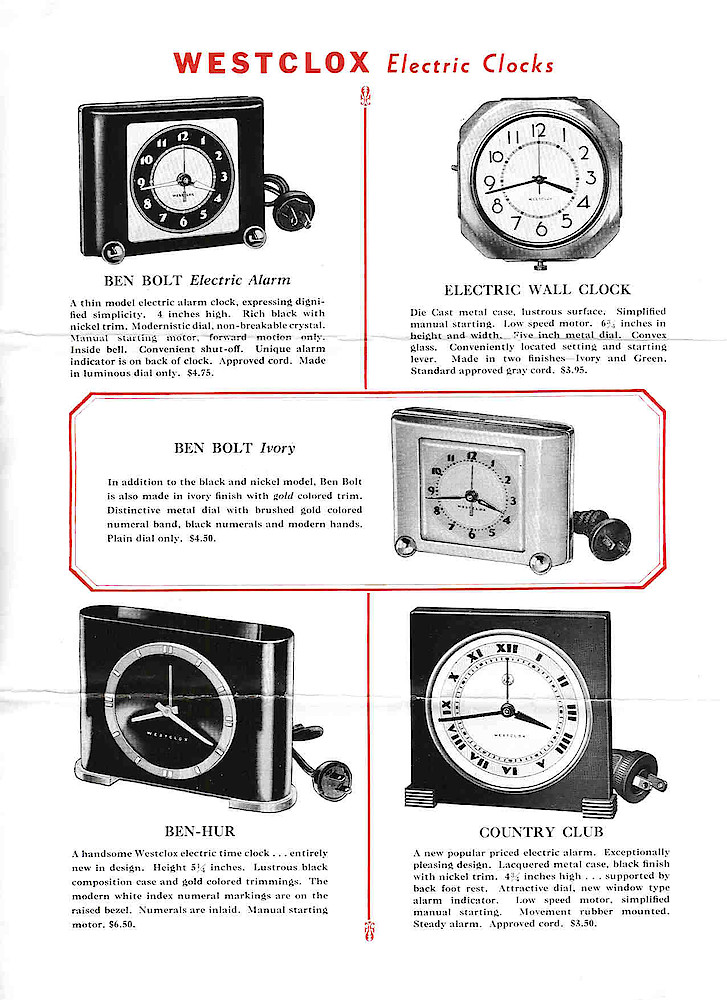 Document Series:
Westclox Catalog

Library:
The Canadian Clock Museum, Deep River, Ontario, Canada

Document Type:
Catalog > Page

---
---
This document is shown for the historical record, it is not for sale.
Id Filtered: 5363; Displayed Document Id: 5363; Parent Document Id: 5356; Document Id Hierarchy: 5356 > 5363; Parent Documents' Companies: Western Clock Company Ltd. Canada; s_date (this document or parents): 1936-01-01; Url: 1;