The History of Westclox Wrist Watches
Westclox introduced Wrist Ben, their first wrist watch, in 1936. Wrist Ben was on the market for years and went through many style changes. Other popular models and their years of introduction include: Judge, 1938; Rocket, 1939; new Wrist Ben, 1950 (curved to fit the wrist); LaSalle, 1950; Troy, 1953; new Rocket, 1953; Kim, 1953; new Judge, 1953.
Westclox made their own watch movements for many years, but starting in the 1960's some watches were made in Germany. Beginning in the 1970's, some with jeweled lever movements were made in Japan and France.
More models are shown in the Westclox model database.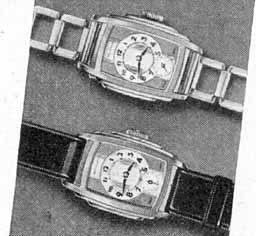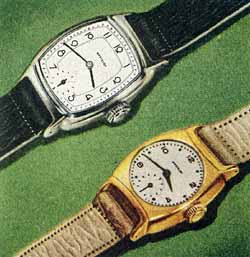 Westclox "Watchlarm"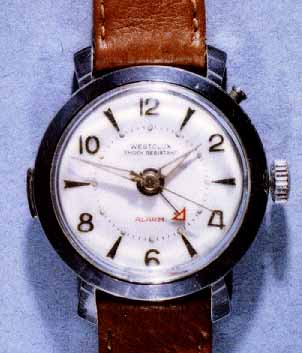 Paul Neupert sent in this photo of a Westclox alarm wristwatch and asked for information.
The sliding switch at 9:00 turns the alarm off and on. The pusher at 1:30 moves the alarm arrow pointer in quarter-hour increments - 15 minutes per push. The crown winds both the time and alarm and is pulled out to set the time. The top of the dial says "Westclox" and "Shock Resistant". Above the numeral 6 it says "Alarm" in red letters. The bottom of the dial says "LaSalle, Ill. U.S.A."
Answer from Ellworth Danz, LaSalle, Illinois, former Chief Stylist at Westclox: This wrist watch is the Westclox "Watchlarm ". This is listed in the 1960 watch catalog and also 1961 full line catalog. The 1960 catalog number for the metal band model was 790-LB but in 1961 when Westclox went to IBM numbers for everything it was 35048. The leather strap model was 790-L and in 1961 35046. The retail was listed as $17.95 for the metal band watch and $16.95 for the leather strap watch. I have a model in excellent condition and timed the alarm ring duration at 8 seconds They were difficult watches to make, and I don`t think Westclox made any money on them. I believe they are rare today. I removed the back and the movement is stamped W5. It was made at the LaSalle-Peru plant and probably used some components of the W4. Manufacturing and Engineering used those model designations, but they were not used in the catalogs by Marketing.