Automobile Clocks
Here is an automobile clock that I believe was for after-market use. It has a mounting bracket, and could be mounted in any automobile.
One correspondent identified it as belonging to a 1938 Buick, and another correspondent says it is for a 1937 Oldsmobile. A third correspondent sent a photo of the clock mouonted in the glove box door of his 1938 Buick, and it is a completely different round clock. Another person's 1938 Oldsmobile has this clock.
This clock is dated 10 21 36 (October 21, 1936) on the movement. It has a pull-wind movement (the knob and string are missing) and the string entered through the opening in the bottom of the case. The set knob, which is missing, attaches to the shaft at the bottom of the dial (where the numeral six would be). The mounting bracket is separate from the clock, and is attached with two screws (see the bottom photo). The color is a metallic brownish-gray (not as brown as the pictures show).
The clock is 3 3/4 inches wide and 2 3/8 inches tall.
If anyone has any more information,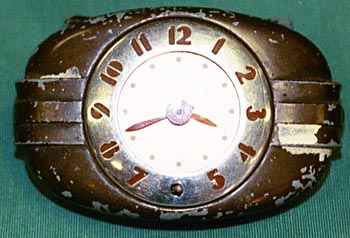 The back is labeled:
WESTERN CLOCK CO.
LASALLE, ILLINOIS
PATENTED U.S.A.
1563431
1709146
1848520
MADE IN U.S.A.
Thanks to Jack Watson for finding a reference to this clock on an auction web site.