William S. (Bill) Stoddard has had a lifelong interest in clocks and watches. When he was a small boy, his grandfather, who had a small clock collection, showed Bill how to wind and regulate clocks. At age eight, Bill and his mother were in their attic one day and Bill found a Waterbury octagon lever wall clock, ca. 1880. Several years later he saved up money mowing lawns and had a clockmaker repair the clock. The clock would not run reliably even after being returned several times. Two years later a mainspring broke, so Bill installed a new one and was also able to determine why the clock was unreliable and correct the problem.
At age 14 Bill became interested in Westclox Baby Ben alarm clocks and began to collect and repair them, and gather data about them. He later added Big Bens to the collection.
In 1980 Bill met Richard Tjarks, an expert clock repairer and restorer, who also had an interest in Westclox clocks. This began a close friendship, and the two cooperated on many ventures, including Westclox articles and programs. Richard passed away in 2005.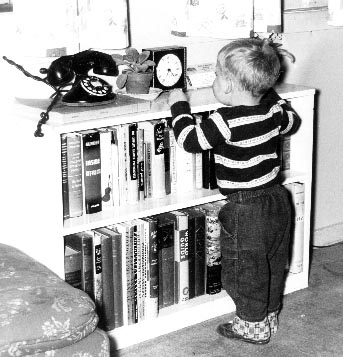 Bill Stoddard at age 20 months (December 1956)
In high school, Bill bought a 1940's floor standing radio. He learned how vacuum tube electronic circuits work, and started to repair radios and televisions. He studied electronics for two years in high school, and enjoyed it so much that he enrolled in the electrical engineering program at Michigan Technological University.
After receiving the BSEE degree in 1977 and the MSEE degree in 1978, Bill went to work for Bell Laboratories in Indianapolis. There he became familiar with the UNIX computer operating system and did digital circuit and IC design. In 1986 Bill joined Truevision, Inc., where he designed semi-custom integrated circuits for video display boards.
In April 1991 he formed Bill's Clockworks, a sole proprietorship, based in his Indianapolis house. In December 1991 he married Rev. Kimberly Wheeler and moved to Lomax, Illinois where Kimberly was pastor of a church. Bill and Kimberly bought an old grocery store in Lomax built ca. 1900, renovated it, and put the clock shop there. In August 1993, Nathan, their first son was born. In January 1995 the Stoddards moved to Kimberly's home town of Flora, and their daughter Bethany was born in March, 1995. The former Rainbow Cafe of Flora was renovated and became the new site of Bill's Clockworks, officially opening in November 1995. Bill and Kimberly's third child, Luke, was born in July 1996.
In 2000, Bill created the ClockHistory.com web site and updated the BillsClockworks.com web site. He is making good progress with the Westclox History Database. The database now contains style series, styles and Westclox models. Bill is working on the administration interface using Yii, and plans to have more models; and also documents, examples, details, patents, companies and personnel ready for public display later in 2016.
Bill continues to repair clocks at Bill's Clockworks in Flora, Indiana.
+ My Google Profile