Clock Setting Mechanism
Summary:
Setting stem is spring loaded to disengage when not setting the clock


Patent Dates
Application Date:
1926-12-27
Issue Date:
1932-03-08
Patent Numbers
Patent Number:
1848562
Serial Number:
157057
Notes:
A co-pending application of the same date is mentioned three paragraphs before the claims.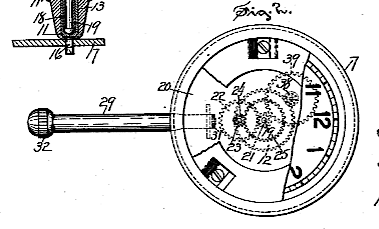 Description:
Also, the setting knob is secured by a washer that flattens out after being driven into the knob.
Inventor Information:
William H, Greenleaf of Hartford, Connecticut, Assignor to Western Clock Company, of Peru, Illinois, a Corporation of Illinois.


Patent Type:
Utility


Patent Country:
United States


Patent Categories:
Automobile Clock; Clock Hand Setting Mechanism


Assignee:
Western Clock Company 1912 to 1936


Inventor:
Greenleaf, William


Patent URLs:
U.S. Patent Database; Google Patents