Winding Key For Clocks
Summary:
The "flattened" or closed key used on the Baby Ben starting in the 1920s.


Patent Dates
Application Date:
1920-06-15
Issue Date:
1920-11-09
Patent Numbers
Patent Number:
1358457
Serial Number:
389181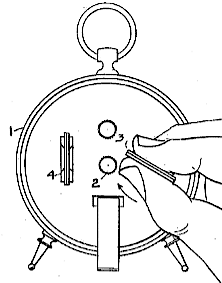 Description:
The thinner design makes it easier to wind the clock without the user's thumbnail caching on the time set knob.
Inventor Information:
Norman T. Mills of San Francisco, California.


Patent Type:
Utility


Patent Country:
United States


Patent Category:
Clock Technology


Patent Companies
User:
Western Clock Company 1912 to 1936
User:
Westclox
Inventor:
Mills, Norman


Patent URLs:
U.S. Patent Database; Google Patents