Clock
Summary:
Removable bridge and retainer for Big Ben alarm mainspring


Patent Dates
Application Date:
1912-01-13
Issue Date:
1914-02-10
Patent Numbers
Patent Number:
1086719
Serial Number:
671114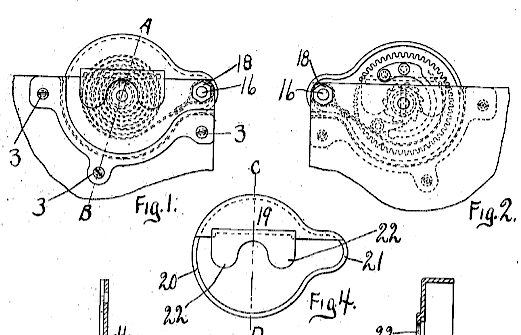 Description:
The bridge for the mainspring and mainwheel is attached to the back plate by three screws and one nut. The guard protects other parts of the clock in case of mainspring breakage.
Inventor Information:
George Kern, Of Peru, Illinois, Assignor To The Western Clock Co., Of La Salle, Illinois, A Corporation Of Illinois.


Patent Type:
Utility


Patent Country:
United States


Patent Category:
Windup Clock


Patent Companies
Assignee:
Western Clock Company 1912 to 1936
User:
Westclox
Patent Personnel
Inventor:
Kern, George
Witness:
Radtke, William
Witness:
Dauber, Oscar
Attorney:
Neureuther, Andrew
Patent URLs:
U.S. Patent Database; Google Patents