Time Stamp
Summary:
Improved time stamp without intermediate converting mechanism to more efficiently transfer power from the clock mechanism to the type-wheels. Also, the first (that he is aware of) to automatically move the month type-wheel.


Patent Dates
Application Date:
1889-03-19
Issue Date:
1890-03-25
Patent Numbers
Patent Number:
424369
Serial Number:
303910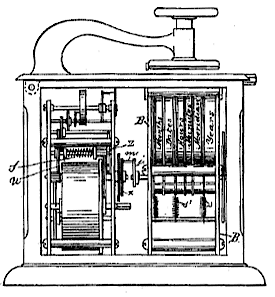 Inventor Information:
Charles Stahlberg, of Brooklyn, New York, assignor to the Accurate Time Stamp Company, of West Virginia.


Patent Type:
Utility


Patent Country:
United States


Patent Category:
Time Stamp


Assignee:
Accurate Time Stamp Company


Patent Personnel
Inventor:
Stahlberg, Charles
Witness:
Andrews, Henry
Witness:
Fisher, Albert
Patent URLs:
U.S. Patent Database; Google Patents