Schatz 1000 Day Round Shelf Clock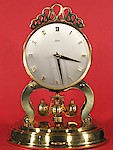 Description:
Schatz introduced their 1000 day clock in 1954. This round model first came with a glass dome, then was changed around 1956 to a platic dome with locking tabs. The first movements had straight legs, and were changed to the more graceful curved legs around mid-1955. The round base model came with several different styles of decoration above the dial. Most of the dials have small radial Roman numerals, but a few have small upright Arabic numerals.
Model Names:
Model Name:
1000 Day Clock
Name on Dial:
1000 Day
Model Number:
1000 (
1000
)
Introduced:
Motive Power:
Spring
Model Type:
Clock
Company:
Schatz
Usage Locations:
Shelf
Functions:
Time
Specifications:
Case Color:
Brass
Dial Material:
Silvered Brass
Country of Origin:
Germany
References
Pictures of the Schatz 1000 Day Round Shelf Clock:
This item is shown for the historical record, it is not for sale.
Page Created: 2012-07-04 Page Modified: 2012-07-04