Gufa Standard 400 Day Clock Shelf Clock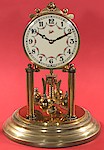 Description:
This standard size 400 day clock says "Gufa" on the dial and "Gutenbacher Uhrenfabrik" on the back. The "Horolovar 400 Day Clock Repair Guide", 1991, Appendix 62, page 217, says: "(1208) This plate and 1014B were stamped with the same dies. Gutenbacher Uhrenfabrik was affiliated with Jahresuhren-Fabrik Aug. Schatz and Sohne. The first was known as Gufa, the latter as J.U.F. At the time (1952), exclusive U.S. distribution of the Schatz clocks was through the Electric Shaver Division of Remingon Rand. But by special agreement, Aug. Schatz could sell clocks under the Gufa umbrella to other U.S. customers at a lower price. One such sale was to Henry Coehler Co. (1214). Changes in the leveling screws and the pendulum locking mechanism made the clock sufficiently different from those being made by Jahresuhren-Fabrik for Remington Rand." The part about pendulum locking and leveling screws doesn't seem relevent, as Schatz standard clocks don't hve locking devices, and often don't have leveling devices. But the pendulum balls, finials and plates are shaped differently from regular Schatz standard clocks.
Model Name:
Standard 400 Day Clock
Example Date:
Motive Power:
Spring
Model Type:
Clock
Company:
Schatz
Usage Locations:
Shelf
Functions:
Time
Specifications:
Case Color:
Brass
Dial Material:
Enamel
Country of Origin:
Germany
Brand (if different than marketing company):
Gufa
Movement Type:
BP 1208
References
Pictures of the Gufa Standard 400 Day Clock Shelf Clock:
This item is shown for the historical record, it is not for sale.
Page Created: 2012-07-03 Page Modified: 2012-07-09