Jahresuhrenfabrik Schatz Early Standard No Name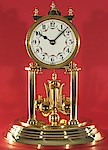 Description:
Here is a Jahresuhrenfabrik (Year Clock Company) 400 day clock made about 1949. This company's clocks were given the name Schatz soon after this. This clock has an attractive and unusual style of bezel around the dial, with wide front section and embossed decoration. The movement has the same gearing as older Jahresuhrenfabrik movements. This is the first movement with 49 in the circle on the back plate, characterized by not saying No (0) Jewels Unadjusted.
Model Name:
Standard 400 Day Clock
Approximate Date:
Motive Power:
Spring
Model Type:
Clock
Company:
Schatz
Usage Locations:
Shelf
Functions:
Time
Specifications:
Case Color:
Brass
Dial Material:
Enamel
Country of Origin:
Germany
Movement Type:
BP 1271
References
This item is shown for the historical record, it is not for sale.
Page Created: 2012-07-03 Page Modified: 2015-04-26