Westclox Big Ben Style 6 Alarm Clock
Date Summary:
1949 - 1956


Characteristics:
Smaller base than style 5, without the polished metal plate. Small alarm hand at "12" with full numeral 12 showing.


Style Information:
Chime Alarm Ivory: 1949 - 1956
Loud Alarm Gun Metal: 1949 - 1956
Loud Alarm Ivory: 1954 - 1956
Reproduced in China with quartz movement starting ca. 2003
Big Ben Style 6 Alarm Clock Variations
Ben Style 6 -> Back Type
Big Ben Style 6 -> Base
Big Ben Style 6 -> Base Cavity Number
Big Ben Style 6 Chime -> Dial
Big Ben Style 6 Chime -> Movement Material
Big Ben Style 6 Loud -> Dial
Big Ben Style 6 Alarm Clock History
Henry Dreyfuss designed the style 6 case for the Big and Baby Bens, and they were introduced to the market in 1949. Notice the new style of hands and that the entire number 12 is printed on the dial (previous styles had only a partial 12 due to the alarm dial).
The style 6 Big Ben Chime Alarm was made only in ivory cases with brass trim. These have a white dial with brown numerals or a brown dial with luminous numerals.
The style 6 Big Ben Loud Alarm was made in gunmetal cases only at first, and in 1954 the ivory case was added to the line. Gunmetal cases have a white dial with black numerals or a black dial with luminous numerals. Ivory cases have either a white dial with brown numerals or a brown dial with luminous numerals.
Almost all Big Ben Chime Alarm movements were nickel plated up to 1951.
This design was not patented. It is unknown if a patent was actually applied for or why a patent wasn't pursued. Perhaps the design of Style 6 was too similar to Style 5 and was not considered worth the expenditure to go after a patent.
Style 6 was discontinued in 1956.
Style 6 Reproductions
A style 6 Big Ben with a quartz movement was introduced ca. 2003 (please tell me if you know the year of introduction). The reproduction can be identified by having a sweep alarm indicator (instead of having the alarm indicator in a sub-dial below the numeral "12"). Also it has a battery compartment instead of two winding keys.
Here is the descriptive text for the style 6 reproduction, courtesy of Alarm Alarm Clocks Online:
The case is modeled after the classic 1949 Big Ben as designed by Industrial Design pioneer, Henry Dreyfuss. This is known as the style 6 to collectors of vintage Big Bens. Nickel-finished trim (brass on the ivory model) with all metal case, quartz movement, "Aged" white dial. Glass lens. Luminous hands. Runs on one "AA" battery. It has a second hand and alarm set hand on the dial. We are very pleased with Westclox attention to detail in making this reproduction of a great Big Ben that was made from 1949 until 1956. Imported.
NOTE: This clock says "Loud Alarm" on the dial only because it is styled after the 1949 Loud Alarm model of the Big Ben. The actual alarm on this clock is NOT what we would consider loud. It is comparable to the other retro style Big Bens we offer.
Size: 5 1/2" x 5" x 2"
Availability of the Reproduction
As of 2012-09-09, Alarm Clocks Online listed the following colors: Black, Ivory, Brushed nickel, green, red and orange, Only the black, ivory and nickel were in stock.
There was also a pink model, available as new old stock on ebay, and shown as "Currently unavailable. We don't know when or if this item will be back in stock" on amazon.com. Amazon.com had 5 of the orange model in stock.
Pictures of the Westclox Big Ben Style 6 Alarm Clock: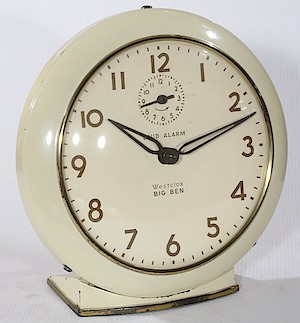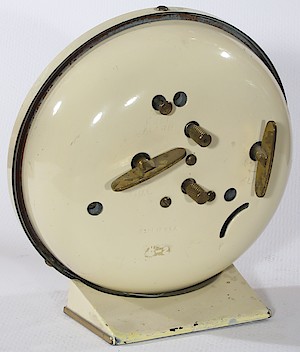 References