Westclox Hustler Style 1 Alarm Clock
Date Summary:
1933 - 1942


Characteristics:
Square metal case


Style Information:
Blue and Green case colors introduced first
Black and rust colors added later
Hustler Style 1 Alarm Clock History
The Hustler Alarm was initially a non-descript clock not bearing the Westclox name, the bottom of the dial says "United Time Products Made in USA".
When introduced in May 1933, it sold for $1.19 and was first made in blue and green colors and later in rust and black.
These clocks were a success, based on an October 18, 1940 letter to all salesmen by Mr. Gillman, the sales manager, stating that the Hustler and Keno models were "sold out" and not to accept additional business for these models.
These Hustler models were also available in Canada, but it is not known if they were sold as United Time Products as were the US-made models.
In August of 1933, the Hustler Electric model in the same case as the key wound Hustler Alarm was introduced, but sales meeting notes of the period indicate that this model didn't sell well.
Pictures of the Westclox Hustler Style 1 Alarm Clock: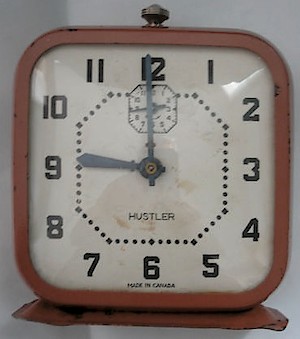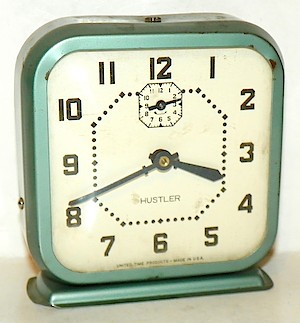 References