Westclox Big Ben Clock of Tomorrow Alarm Clock
Date Summary:
1955 - 1959


Characteristics:
Large plastic lens, alarm on-off control on top of case, says "Clock of Tomorrow" on the dial.


Style Information:
Made in black and white finishes, both with luminous dial
Reproduced with battery quartz movements ca. 2003 - 2006
This is not actually a Big Ben, but I included it here (the Big Ben style series) because it is closely related to the Big Ben.
Big Ben Clock of Tomorrow Alarm Clock History
Clock of Tomorrow was an elegant and expensive clock, retailing for $12.50 at its introduction in mid-1955. In comparison, Big Ben Loud Alarm Luminous retailed for $7.95 at the time. Clock of tomorrow was made through 1959. It was made in a white case with white dial, and black case with black dial. Both case colors have gold colored trim. The Clock of Tomorrow has a chime alarm sound.
In the early 1940's, Ralph Matthiessen, Chairman and major stockholder of General Time, suggested to Max Schlenker (chief engineer) that a key wound clock should be designed which would have all the advanced features in one clock and would be a "clock of tomorrow". The name was picked up from his request. A clock model with illuminated push-push switch, single key silent wind, quiet movement was made by engineering.
The styling of the model was not impressive, and so Ellworth Danz was given the task to come up with an appropriate style for this clock. This was one of the first projects Mr. Danz worked on, resulting in design patent Des. 162,523 issued March 20, 1951.
The clock's movement is covered by patent #2,361,128 issued to Max Schlenker on October 24, 1944.
Concerning the introduction of the Clock of Tomorrow, Mr. Danz told me the following:
"The Clock of Tomorrow was delayed by two things; production of the Bens and other key wounds was the main priority in order to fill the demand after production had ceased during world War II. Tooling for this clock was not a priority. A new marketing Manager, Joe Donahue, had come from the Shaeffer Pen Company, and he said their $12.50 pens outsold their $5.00 models. That was a concept new to key wound clocks – and perhaps not applicable.
"You will notice the dial on the production models differ from the one on the patent drawing. I have one of few samples made with the original dial (non luminous). I designed the style 7 Big Ben case although no patent was applied for (our patent attorney said it was just another round clock). Of course this design and construction with the first plastic lens for a Ben was based on the same concept as the Clock of Tomorrow."
Note from Bill Stoddard: I consider the Clock of Tomorrow to be part of the Big Ben family, as it has many of the same characteristics including the bell-back and removable mainspring barrel.
Clock of Tomorrow Reproductions
A Clock of Tomorrow with a quartz movement was introduced ca. 2003 (please tell me if you know the year of introduction). The reproduction can be identified by having a battery compartment instead of two winding keys. Also, the dial says "Big Ben" and "Clock of Tomorrow" whereas the original did not say "Big Ben" on the dial.
Pictures of the Westclox Big Ben Clock of Tomorrow Alarm Clock: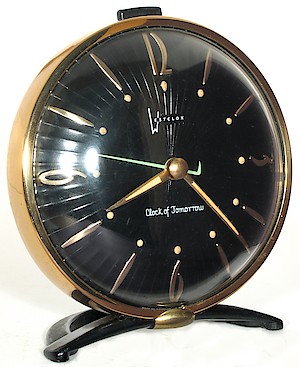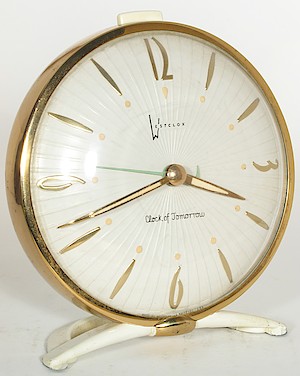 References