Westclox Big Ben Style 1a Alarm Clock
Date Summary:
1918 - 1935 (and a reproduction was made in 1970)


Characteristics:
Ring on top, two legs in front, no screws through the front of the bezel.


Style Information:
Plain dial: 1918 - 1935
Black luminous dial: 1921 - 1935
There are variations in the lettering on the dial and back.
Big Ben Style 1a Alarm Clock Variations
Big Ben Style 1a -> Back Type
Big Ben Style 1a -> Leg Type
Big Ben Style 1 and Style 1a -> Dial
Big Ben Style 1a Alarm Clock History
In 1918 the Big Ben case was improved to make it dustproof, as described in patent #1,300,278 issued to Kern on April 15, 1919. This dustproofing is accomplished by fittings around the set knobs and winding keys and on the regulator. The style 1a can be distinguished from style 1 in several ways:
Style 1 has three screws through the bezel visible from the front, style 1a doesn't (compare figures 3 and 7);
Style 1 has two screws holding the bell back, style 1a has three. Style 1a has four holes in the back to access the movement cap screws;
Style 1 has the legs and pendant riveted to the case, on style 1a they screw on. The first style 1a cases had double-hexagon legs, but after about a year they were changed to standard single hex form.
The movement was changed for style 1a so that the mounting nuts were on the back. The movement was mounted to the inner case back.
George Kern died on July 27, 1918 from a ruptured appendix, but his basic clock design lived on for years.
About 1920 the luminous dial using radium paint was introduced. From that time on, Baby Bens first and then Big Bens were available with either the plain or luminous dial. Big Ben style 1a continued in production until its discontinuation in 1935. The movement was then used with minor changes in Loud Alarm models until 1956.
Style 1a Big Ben Reproductions
Westclox made an excellent, almost exact, reproduction of the style 1a Big Ben in 1970. Most are in nickel finish cases, but some were made in gold plated cases. They can be identified by having the modern type of flat head screws with shoulders instead of round head screws, and by having a 1910 patent date on the back even though the case is style 1a. They were sold in a very attractive hexagonal box which has pictures of antique items on the sides (tricycle, telephone, carriage, etc.) The movement is a windup almost identical to the original.
Dial Variations
"Westclox" in italics, double hexagon legs: 1918
"Westclox" in italics, regular legs: 1918 -1922
"Westclox" in italics, very narrow lettering at bottom: "MADE BY WESTERN CLOCK CO., LA SALLE, ILL., U.S.A.", ca. 1919 - 1920 on a small proportion of clocks
"Westclox" in Roman text, Wide lettering at bottom: 1923
"Westclox" in Roman text, Narrow lettering at bottom:1924 to 1927
"Westclox" in Roman text, Projection on the "x": 1928 - 1935
Luminous, "Westclox" in italics: ca. 1919 -1922
Luminous, Westclox in Roman text: 1923 - 1927
Luminous, projection on the "x": 1928 - 1935
Pictures of the Westclox Big Ben Style 1a Alarm Clock: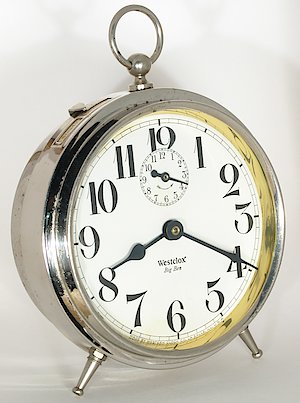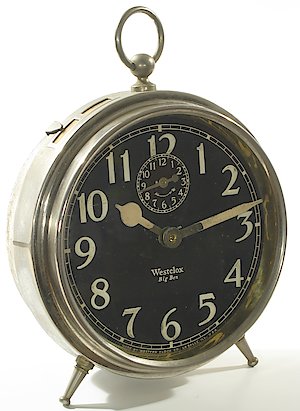 References