Westclox Big Ben Style 3 Alarm Clock
Date Summary:
1931 - 1934


Characteristics:
Concave curves on base (curves on front, rear and the sides).


Style Information:
Made in Chime Alarm only
Note: Reproductions having battery quartz movements have been made in recent years
Big Ben Style 3 Alarm Clock Variations
Big Ben Style 3 -> Back Type
Big Ben Style 3 -> Base
Big Ben Style 3 -> Base Cavity Number
Big Ben Style 3 -> Luminous Hand Type
Big Ben Style 3 Alarm Clock History
"A New Big Ben Chime Alarm, which has been termed 'The First Polite Alarm Clock In History' because of the pleasant manner in which it awakens people from their slumber" was introduced in mid-1931.
"This Big Ben Chime alarm has a two voiced alarm. First, there's a series of gentle chime calls designed to awaken the light sleeper without disturbing the sleep of the entire household. If this gentle alarm does not awaken the sleeper there is a loud, steady call in reserve that will awaken the most sound slumberer."
Design patent 85,916 was issued to Henry Dreyfuss on January 5, 1932. This style 3 case was first used to house the new Big Ben Chime Alarm.
The first style 3 Chime Alarms had the alarm shutoff lever in a curved slot, later the standard type of pull on-off switch was used.
At first, the Big Ben came only in black finish with nickel trim. The "butler finish" Big Ben Chime alarm was introduced around the end of 1932. "Butler finish is a special treatment applied to nickel plating which gives it a soft, satin-like appearance. This finish is produced in our buffing department."
Big Ben style 3 has a flat glass, (but Baby Ben style 3 was the first Ben to have a convex glass). The style 3 Big Ben was discontinued in 1934.
Plain or luminous dials were available. The luminous dials have outline numerals filled with luminous paint, and the luminous hands are skeleton style.
Style 3 Reproductions
A style 3 Big Ben with a quartz movement was introduced in the late 1990's (please tell me if you know the year of introduction). The reproduction can be identified by having a sweep alarm indicator (instead of having the alarm indicator in a sub-dial below the numeral "12"). Also it has a battery compartment instead of two winding keys.
Pictures of the Westclox Big Ben Style 3 Alarm Clock: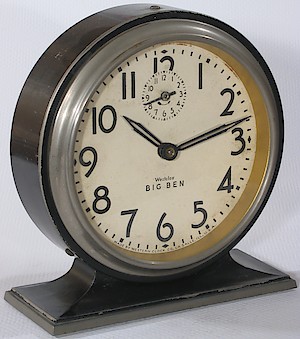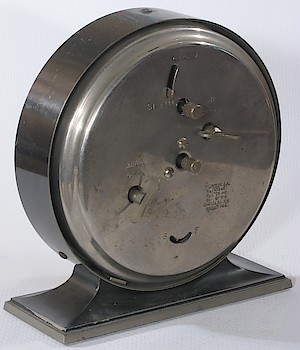 References