Westclox Big Ben Style 2 Alarm Clock
Date Summary:
1927 - 1932


Characteristics:
Thin edge around base, has steady-repeat and alarm-silent levers on top of case.


Style Information:
This is the first style of Big Ben with a base instead of legs.
Polished nickel finish: 1927 - 1932
Crackle painted finish: 1928 - 1930
Solid painted finish: 1930 - 1932
Butler nickel finish 1930 - 1932
Starting in 1930 the dials no longer said "DeLuxe" on them, just "Big Ben" or "Baby Ben" as on the style 1a clocks.
Height: 5.75 inches, Width: 5 19/32 inches, Weight: 2 pounds.
Big Ben Style 2 Alarm Clock Variations
Big Ben Style 2 -> Back Type
Big Ben Style 2 -> Base
Big Ben Style 2 -> Base Bottom Color
Big Ben Style 2 -> Base Cavity Number
Big Ben Style 2 -> Cast Base Metal Condition
Big Ben Style 2 -> Number of Base Corners Gone
Big Ben Style 2 Alarm Clock History
The style 2 Big Ben was put into production around mid-1927, and was first advertised that fall. The movement in style 2 Big Ben is identical to that in the style 1 Big Ben of the same time period. The difference is in the case—a die-cast base replaced the legs, and the ring on top was omitted. (Note that the front of the base is longer than the back – we have often seen clocks with the base installed backward!)
Design patent Des. 72,332 issued to H. A. Schierholtz on March 29, 1927 covers the style 2 case design. Max Schlenker was responsible for the design of the base.
The first style 2 Big Bens have a polished nickel finish just like the style 1 Big Bens. White non-luminous dials or black luminous dials were made, which had the lettering "Big Ben DeLuxe".
Crackle painted finishes in green, blue, and pink ("old rose" in Westclox literature) were introduced in 1928. The very first of these crackle finish clocks have white paper dials, but by summer of 1928 gold colored paper non-luminous dials were being used. In fall of 1929 crackle finish Bens with gold color paper luminous dials were added to the line.
Starting in 1930 the dials no longer said "DeLuxe" on them, just "Big Ben" as on the style 1 clocks.
Solid color painted finishes were introduced in 1930 and the crackle finish was discontinued. The solid colors were light green, light blue and pink.
A fancy dial with raised gold leaf numerals was introduced in 1930, about the same time as the solid case finish. These dials have slight off-white or beige backgrounds (the background colors vary due to differences in how they have aged) with fancy skeleton hands. This dial was used in the solid color painted cases, and in "butler" (brushed) finish nickel cases.
At this time, solid color Big Bens were available with either the standard gold luminous dial or the fancy raised gold numeral non-luminous dial; polished nickel finish Big Bens were available with the white non-luminous dial or black luminous dial; and butler nickel Big Bens had the raised gold numeral dial. (More research needs to be done by studying ads and catalogs to determine if the above list is accurate. For example, was there a butler finish Big Ben with luminous dial?)
The nickel finish clock was in production through the period in which the painted clocks were produced, but judging by the relative numbers of them we have seen, the painted clocks were far more popular.
The style 2 Big Ben was discontinued in 1932.
Style 2 Reproductions
A miniature of the style 2 was made in 1997, with 5000 made. It has a quartz movement.
Pictures of the Westclox Big Ben Style 2 Alarm Clock: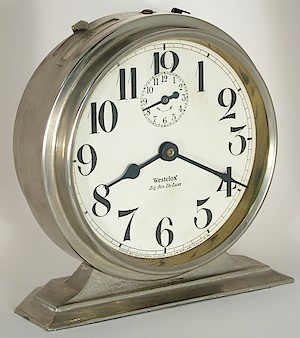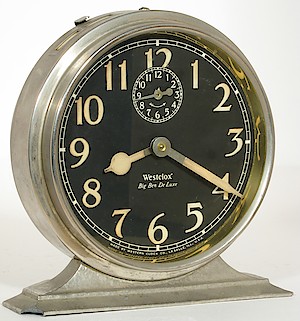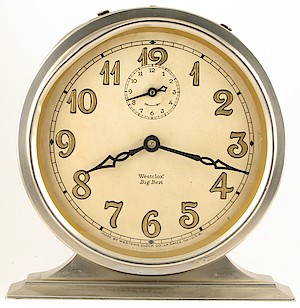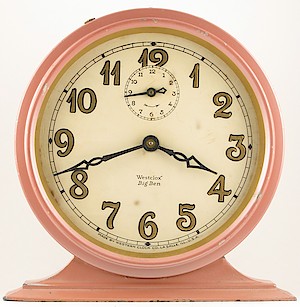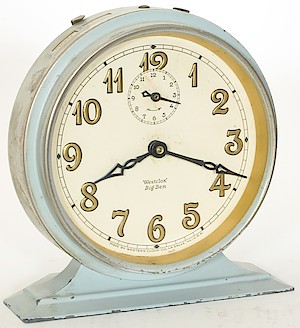 References