Westclox Big Ben Style 1 Alarm Clock
Date Summary:
1908 - 1918


Characteristics:
Ring on top, two front legs, three screws through the front of the bezel.


Style Information:
There are many variations in lettering on the dial and back.
There are 2 Models of Westclox Big Ben Style 1 Alarm Clock in the database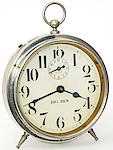 Leg model, ring on top.
Dates made: 1908 - July 1918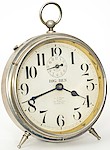 Leg model, ring on top, dealer name on dial
Dates made: 1910 - July 1918
Big Ben Style 1 Alarm Clock Variations
Big Ben Style 1 -> Back Type
Big Ben Style 1 -> Repeat Lever
Big Ben Style 1 and Style 1a -> Dial
Big Ben Style 1 Alarm Clock History
Model Introduction Summary
Tooling was being made for the Big Ben alarm clock by 1908, the first Big Bens were sold in 1909, and they were first nationally advertised in the Sept. 24, 1910 Saturday Evening Post. Gaston LeRoy's report to the Westclox board of directors in 1908 outlines his proposed advertising campaign for the Big Ben.
Sales figures for the first years of the Big Ben and Baby Ben
| Year | Big Ben | Baby Ben |
| --- | --- | --- |
| 1909 | 28,261 | ------ |
| 1910 | 146,099 | 4,783 |
| 1911 | 391,620 | 18,173 |
| 1912 | 582,801 | 43,497 |
| 1913 | 784,739 | 90,398 |
| 1914 | 610,431 | 91,733 |
| 1915 | 517,549 | 123,231 |
| 1916 | 615,167 | 137,464 |
| 1917 | 650,455 | 180,232 |
| 1918 | 613,943 | 158,102 |
| 1919 | 813,807 | 231,020 |
| 1920 | 837,807 | 256,212 |
George Kern was born and raised in Germany and went to work at the Junghans clock factory. He came to the United States to avoid army conscription and found work in a New York machine shop. "Ernest Roth, general manager of the Western Clock Mfg. Company, was in a New York restaurant about 1905 when he overheard a stranger speaking in German. Able to understand, Roth began a friendly conversation with Kern that resulted in Kern being hired to head the clock works' old experimental department, called the 'model shop.' His first order: Design a dependable and sturdy alarm clock.
"Kern went to work on it. Everyone agrees, including Ernest Roth, son of the senior Roth, that Kern deserves complete credit for the invention of the clock that was to make the company phenomenally successful. The new clock was named Big Ben."
Tooling was being made for the Big Ben alarm clock by the first quarter of 1908, the first Big Bens were sold in 1909, and they were first nationally advertised in the Sept. 24, 1910 Saturday Evening Post. U.S. Trademark #72,178 for "BIG BEN" contains the statement "The Trade-mark has been continually used in our business since Mar. 16, 1908." That is the date of Gaston LeRoy's advertising department report in which he proposed the name "Big Ben", as discussed in the following section, "Big Ben Advertising and Promotion".
On June 9, 1908, Kern was granted patent #890,066 entitled "Alarm Clock". The patent's two drawings show an ordinary Western Clock Mfg. Co. movement housed in a new style case invented by Kern. The significant feature of this case is the large bell-back which completely envelopes the inner case back and is an integral part of the case, while on other early bell-back alarm clocks the bell was placed there almost as an afterthought.
Kern designed a new alarm clock movement, and applied for a patent on July 1, 1908. This patent was granted November 7, 1908 as #904,333. The Big Ben movement incorporates an intermittent alarm feature that is an improved version of the "repeating" alarm described in patent #855,775 issued June 4, 1907.
Kern was granted patent #958,930 on May 10, 1910 for improvements to the alarm mechanism. With several major and many minor changes this movement was used in the Big Ben leg model alarm clock from 1908 to 1935, and in the Big Ben Loud Alarm from 1935 to 1956. It was also revived in 1970 for the Big Ben leg model reproduction.
The Big Ben case is covered by design patent Des. 41,725 issued to Kern on August 29, 1911. Big Ben clocks made from 1908 to mid-1910 have a dial different from that usually seen. In mid-1910, the dial was changed to have the familiar type of numeral.
A significant change was made to the Big Ben movement in late 1912. To make it easier to repair the clock, the back plate was redesigned so that removable bridges held the mainsprings. The time mainspring barrel assembly was changed again in 1913 when a new ratchet and click arrangement was implemented. Kern's patent #1,086,719 issued Feb. 10, 1914, covers the removable alarm mainspring assembly.
BIG BEN ADVERTISING AND PROMOTION
The success of the Big Ben was due not only to steadily improving construction but also to the unique advertising campaign carried out by advertising manager Gaston LeRoy. LeRoy's advertising report dated Mar. 16, 1908 proposed the name "Big Ben" for the new clock and outlined possible advertising strategies. LeRoy recognized that The Western Clock Manufacturing Co. was associated with cheap alarm clocks and recommended that the new clock carry the trademark "Big Ben" and not the company name.
LeRoy's advertising referred to Big Ben as "he" and made the clock appear as a friend or a part of the family. A Western Clock Co. advertising booklet from 1912 states the following: "Big Ben was on the market a year before he was advertised and dealers then said he could not succeed. After less than a year of advertising he was pronounced the biggest clock success of years. He is known wherever people live."
It was during this period that the trademark "Westclox" first appeared. It was used on the backs of Big Bens from 1910 through 1917, and at the bottoms of a few dials as early as 1911. From 1917 on the dials were consistently marked "Westclox Big Ben." "Westclox" was registered as a trademark on January 18, 1916. The registration contains the statement "The trademark has been continuously used in the business of said corporation since the Month of November, 1909."
In 1917, the name "Westclox" started appearing on the dial above the words "Big Ben". From 1917 to ca. 1922, "Westclox" was in italics from ca. 1923 – ca. 1927, "Westclox" appeared in Roman font with a flat-top "X", and starting ca. 1928 the "Westclox" had a loop-top "X".
The first of many nationwide Big Ben advertisements was carried on page 39 of the Sept. 24, 1910 Saturday Evening Post. From that time on, Westclox regularly advertised in the Post, many times with a full-page ad on page one. Westclox advertisements also appeared in Good Housekeeping, McCall's, Delineator, Pictorial Review, Collier's, The American Magazine, The Farm Journal, The Literary Digest, and other publications. The advertising campaign certainly proved successful. In January of 1911 only 7,000 jewelers were selling Big Ben, but by March of 1914, 20,000 jewelers were selling Big Ben with 3.5 million sold. Big Ben continued to sell very well and 40 million had been made by 1956.
The first Big Bens had "MADE IN U.S.A." stamped on the lower left of the back. In 1910 a circular logo with "MADE BY WESTCLOX, LA SALLE, ILL, U.S.A." was used. From 1911 to 1914 the same words (without the circle) were placed at the bottom of the back, partially obscured by the rear leg. In addition, clocks made for the U.S. market from 1911 to 1913 have a circular logo stating "PAT'S INFRINGED IF RESOLD UNDER $2.50", "REG U.S. PAT. OFF", "BIG BEN". Westclox was enforcing a retail price of $2.50 for BIG BEN at this time. A sales pamphlet states:
"BIG BEN is a handsome, well built, refined and bright looking fellow with a clean-cut open face and a deep cheerful voice—a well-dressed, steady and punctual chap, up to the minute and always on the job.
"Works 36 hours at a stretch, runs overtime when needed—guarantees to wish you a good morning when you want and either way you want—continuously for eight minutes, intermittently for fifteen. "Kind of p'ticular and very exclusive. Works only for jewelers and then only for certain jewelers—those that agree to sell him for at least $2.50. Will never work again for those that break their pledge.
"Big Ben is without exception the finest sleepmeter made—the best looking, the best built, the best running—he is handled by the best dealers, under the best policy, at the best profit.
"Big Ben always comes to you straight from home, LaSalle, Illinois—but he only comes upon receipt of signed price agreement. We pay his railroad fare on all orders for a dozen or more, we brand him with your name in lots of 24."
The wholesale price of BIG BEN in 1911 – 1912 was $1.50 each. In case lots of 24, BIG BEN was $1.45 including freight and dealer name imprinting on the dial.
In 1914 a new logo stating "Made in LaSalle, Ill., U.S.A." at the lower left of the back was introduced, first without a circle and then with a circle. In 1915 it was changed to "Made by Westclox, LaSalle, Ill., U.S.A." in a circle. Finally in 1916 and 1917 the logo "MADE BY WESTCLOX, LA SALLE, ILL, U.S.A." without a circle was placed on the lower left of the back.
BIG BEN STYLE 1 WITH BRASS BEZEL AND CELLULOID COVERED DIAL
Examples of a Big Ben style 1 with celluloid covered dial and brass bezel and back have been reported. They have movement dates from 1912 to 1915. These clocks have the following features:
Celluloid covered dial.
Bezel, legs, pendant and alarm sliders are brass that is not nickel plated.
Back bell is brass plated steel.
The back bells appear to be leftovers from older production, and have a last patent date of 1908, 1910 or 1911.
Some people have taken a regular Big Ben style 1 clock and removed the nickel plating to make it into a brass Big Ben. If you examine the riveting of the legs and pendant, you may see evidence that they have been removed and reattached. Also, there may be remains of nickel plating on the alarm sliders where they attach to the inner back. Also, if it has a regular paper dial (not celluloid covered), it is not an authentic brass Big Ben.
Dial Variations
Early form of dial: backwards curve on the 7. Says "Made in U.S.A." at the bottom of dial. Limited production from 1908 - early 1910
Dial just says "Big Ben": mid-1910 - mid-1915.
Lettering at bottom "WESTCLOX., LA SALLE, ILL., U.S.A.": used ca. 1911 on a small proportion of clocks
Lettering at bottom "MADE IN LA SALLE, ILL., U.S.A. BY WESTCLOX". Used ca. 1912 - 1913 on a small proportion of clocks
"Made in USA" at bottom of dial: 1915.
"MADE BY WESTERN CLOCK CO., LA SALLE, ILL., U.S.A." at bottom, late 1915 - early 1917
Very narrow lettering at bottom "Made by Western Clock Co., La Salle, Ill., U.S.A.": used ca. 1916 on a small proportion of clocks
"Westclox" in italics: Starting in 1917.
"Westclox" in italics, very narrow lettering at bottom: "MADE BY WESTERN CLOCK CO., LA SALLE, ILL., U.S.A.", starting ca. 1917 on a small proportion of clocks
Pictures of the Westclox Big Ben Style 1 Alarm Clock: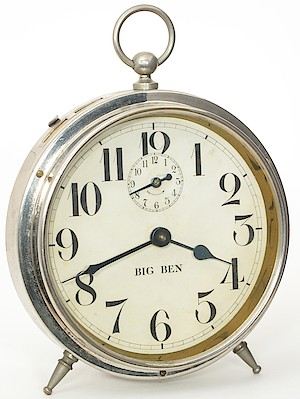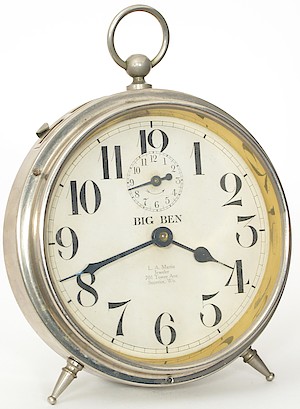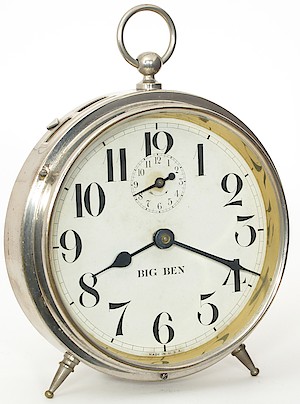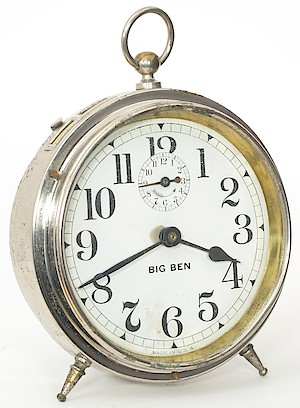 References
Sales figures: "Westclox Annual Sales Statistics Ledger", Collection 116, Box 28, held by the the Regional History Center at Northern Illinois University, DeKalb, Illinois.
Information about the Baby Ben with two inch movement, and information about tooling up for Big Ben and Baby Ben production: "Westclox Department Reports, 1904 - 1922", Collection 116, Box 7, Files 3 - 14, held by the Regional History Center at Northern Illinois University, DeKalb, Illinois.
Westclox - An Identification and Price Guide, Gary Biolchini, Schiffer Publishing, 2003, ISBN 0-7643-1835-7
The Westclox Big Ben and Baby Ben Identification Guide, Richard Tjarks and Bill Stoddard.
Research by Jeffrey R. Wood
Research by Greg Adams
Ellworth Danz, personal communication