Flexible Shutter And Method Of Making Same
Summary:
The shutter used in the Travalarm travel alarm clock.


Patent Dates
Application Date:
1934-12-28
Issue Date:
1936-09-15
Patent Numbers
Patent Number:
2054499
Serial Number:
759594
Notes:
In "Designing for People" by Henry Dreyfuss, 1955, Simon and Schuster, pp 195 - 196: "b. Attention. This service is best explained by the phrase "We bear the client constantly in mind," which appeared in a simple agreement used by our office. A thought that comes in the middle of the night or that is provoked by a news item, by something that the industrial designer has seen or heard—which might add something if applied to the client's product—fits into that category. For example, while traveling in Europe, I saw a small silver matchbox with a cover like an old-fashioned rolltop desk. This sparked an idea for an adaptation, which was suggested to a client; he brought out a traveling clock with a similar cover for the face to avoid breakage."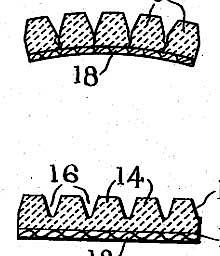 Description:
The shutter slats are molded in one piece, applied to a flexible backing, then the shutter made flexible by splitting open the spaces between the slats.
Inventor Information:
Irving Florman, New York, N. Y.


Patent Type:
Utility


Patent Country:
United States


Patent Category:
Clock Case


User:
Westclox


Inventor:
Florman, Irving


Patent URLs:
U.S. Patent Database; Google Patents