Stem Winding And Setting Mechanism For Watches
Summary:
Outward position is winding, inward position is hand setting, the crown stays in the setting position until pulled out again.


Patent Dates
Application Date:
1910-02-15
Issue Date:
1910-04-19
Patent Numbers
Patent Number:
955336
Serial Number:
544087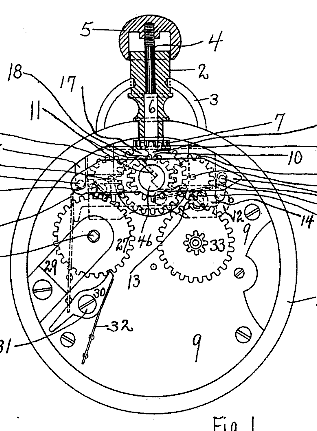 Description:
Not used in watch movement Number 4, as the crown comes out when released from the setting position in movement number 4.
Inventor Information:
George Kern, Of Peru, Illinois, Assignor To The Western Clock Manufacturing Company, Of La Salle, Illinois, A Corporation Of Illinois.


Patent Type:
Utility


Patent Country:
United States


Patent Category:
Windup Watch


Patent Companies
Assignee:
Western Clock Manufacturing Company
User:
Westclox
Patent Personnel
Inventor:
Kern, George
Witness:
Radtke, William
Witness:
Dauber, Oscar
Witness:
Brauns, Paul
Attorney:
Neureuther, Andrew
Patent URLs:
U.S. Patent Database; Google Patents