Clock & Watch Advertisement: January 1909 Keystone Magazine, p. 89 (1909-1-p89-key)
Date:
January 1909

Description:
Advertising aimed at dealers, offers printed advertising material and a mission oak stand for the America alarm clock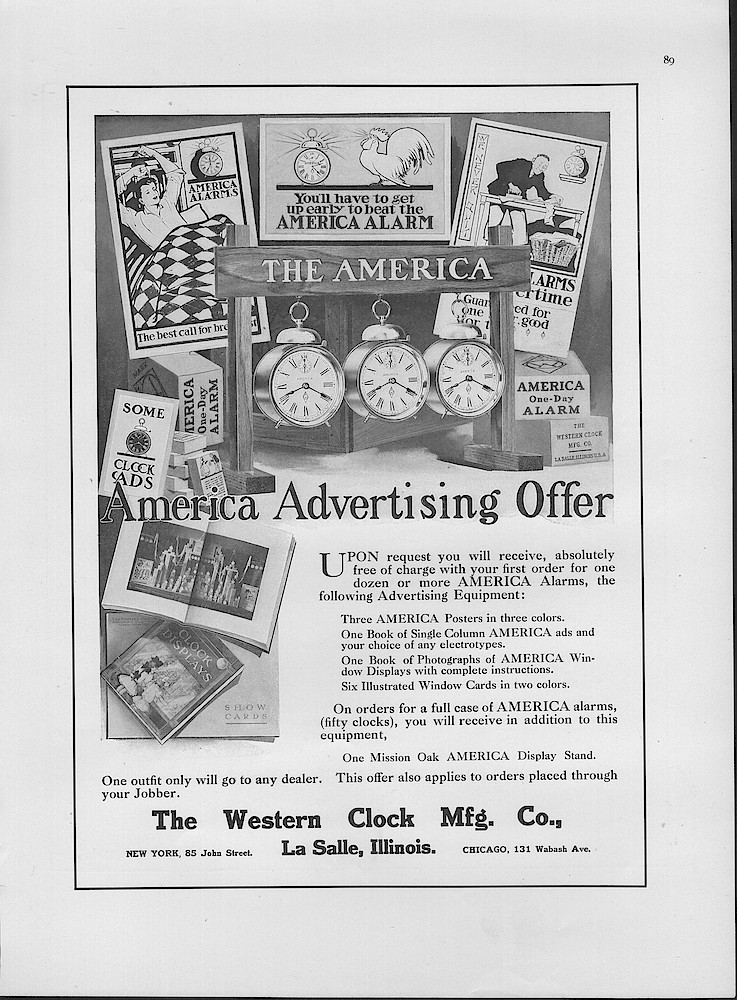 Document Series:
Keystone

Document Type:
Advertisement

Document PDF:
View PDF in New Window
You .... have to.get
upear.... tobeat the
AMERICA ALARM
UPON request you will receive, absolutely free of charge with your first order for one dozen or more AMERICA Alarms, the
following Advertising Equipment:
Three AMERICA Posters in three colors.
One Book of Single Column AMERICA ads and your choice of any electrotypes. One Book of Photographs of AMERICA Win
dow Displays with complete instructions. Six Illustrated Window Cards in two colors.
SHOW On orders for a full case of AMERICA alarms,
..........
(fifty clocks), you will receive in addition to this equipment,
One Mission Oak AMERICA Display Stand.
One outfit only will go to any dealer. This offer also applies to orders placed through your Jobber.
The Western Clock Mfg. Co.,
La Salle, Illinois.
NEW YORK, 85 John StrceL CHICAGO, 131 Wabash Ave.
This document is shown for the historical record, it is not for sale.
Id Filtered: 629; Displayed Document Id: 629; Parent Document Id: 629; Document Id Hierarchy: 629; Listing Company: Westclox; This Document's Companies: Westclox; s_date (this document or parents): 1909-01-01; Url: 2;