Example of Westclox Peru Alarm Alarm Clock (Example ID 569)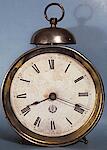 Model Name:
Westclox Peru Alarm

Example 1 of 1
(Example ID 569)

Description:
Movement type [1.1.??.1.2]

Owner:
Bill Stoddard

Dates:
Estimated: 1890 (1890-01-01), No Date

Condition:
Very Good, Condition Notes: Balance wheel is missing.

Details:
Plate Shape: 1: Rectangular; Patent Form: 1: 1885 Straight; Time Click: 1: Spring click riveted outside BP


Page Created: 2021-02-28; Page Modified: 2021-03-14.