Example of Westclox F W Gun Metal Alarm Clock (Example ID 592)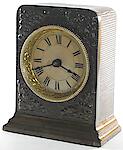 Model Name:
Westclox F W Gun Metal

Example 3 of 5
(Example ID 592)

Description:
Has early form of alarm shutoff lever. Height 5 1/16"

Owner:
Bill Stoddard

Dates:
Movement: 4 26 7 (1907-04-26), Complete Date

Condition:
Good

Text:
Dial: Made By: THE WESTERN CLOCK M'F'G CO., LA SALLE, ILL., U. S. A.

Details:
Balance: 3: Brass 3 arms; Patent Form: 1902 Circular; Time Click: 4a: Single-end flat spring click inside BP; Alarm Click: 1: Spring click riveted outside BP


Page Created: 2021-03-11; Page Modified: 2022-10-29.