Example of Westclox F W Gunmetal Alarm Clock (Example ID 566)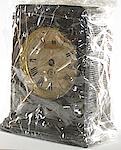 Model Name:
Westclox F W Gunmetal

Example 1 of 5
(Example ID 566)

Description:
Dial has round WC logo. Height 5 1/16" Includes pictures of movement. Back is missing so clock is wrapped in cling wrap.

Owner:
Bill Stoddard

Dates:
Movement: 6 20 3 (1903-06-20), Complete Date

Condition:
Fair, Condition Notes: The back is missing, it should have the 1902 patent.

Details:
Balance: 3: Brass 3 arms; Patent Form: 1902 Circular; Time Click: 2: Spring click Integral to BP; Alarm Click: 1: Spring click riveted outside BP


Page Created: 2021-02-28; Page Modified: 2022-10-29.