Example of Westclox 66 Movement Usa Movement (Example ID 88)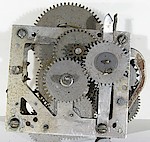 Model Name:
Westclox 66 Movement Usa

Example 26 of 26
(Example ID 88)

Example Description:
Movement only. Month part of date stamp missing. Steel gears except for brass cannon pinion and escape wheel.

Owner's Name:
Bill Stoddard

Example Dates:
Movement: ? 58 (1958-01-01), Complete Date

Example Condition:
Good

Details:
Movement Date Location: Inside Front Plate on Both Sides of Alarm Escape Wheel; Gear Material: Steel Gears; Movement Material: Aluminum Movement Plates


Page Created: 2017-09-19; Page Modified: 2017-09-19.