Example of Westclox 66 Movement Usa Movement (Example ID 63)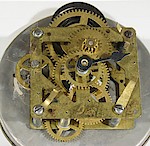 Model Name:
Westclox 66 Movement Usa

Example 1 of 26
(Example ID 63)

Example Description:
Early example of a model 66 movement. Movement and case back only. Has dial spacing brackets like the 4 inch movement.

Owner's Name:
Bill Stoddard

Example Dates:
Movement: 12 30 (1930-12-01), Complete Date

Example Condition:
Good

Details:
Movement Date Location: Outside front plate by T3; Minute Wheel Fastening: No Fastening; Movement Material: Brass Movement Plates


Page Created: 2017-09-14; Page Modified: 2017-09-14.