Example of Westclox Square Luralite Green Alarm Clock (Example ID 53)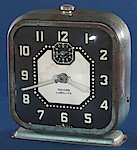 Model Name:
Westclox Square Luralite Green

Example 1 of 1
(Example ID 53)

Description:
The only example I've seen.

Owner:
Bill Stoddard

Dates:
Movement: 2 37 (1937-02-01), Complete Date

Condition:
Fair, Condition Notes: Dial has been wet, is stained in middle, and some luminous paint has run down.

Details:
Movement Date Location: Outside Front Plate on Both Sides of Alarm Escape Wheel; Movement Material: Brass Movement Plates


Page Created: 2017-09-08; Page Modified: 2018-01-19.