History of Seth Thomas Adamantine Antique Mantel Clocks
In the 1860s, French clocks in slate, onyx or marble cases became popular in the United States. These cases were expensive, so the American clock manufacturers produced similar looking cases made of iron or wood. These clocks have become known to collectors as "Black Mantel Clocks", and were popular from 1880 to 1931.
Seth Thomas made clocks in marble cases for a short time, from 1887 to ca. 1895. They also made clocks in iron cases finished in black enamel, from 1892 to ca. 1895. Seth Thomas is well known for their "Adamantine" black mantel clocks, which were made starting in 1882. Adamantine is a celluloid veneer, glued to the wood case. Adamantine veneer was made in black and white, and in colored patterns such as wood grain, onyx and marble.
Adamantine veneer was developed by the Celluloid Manufacturing Company of New York City, and was covered by U.S. Patent number 232,037, dated September 7, 1880. Seth Thomas Clock Company purchased the right to use the Adamantine veneer in 1881.
Below are shown just a sampling of the many models of Adamantine clock made by Seth Thomas.
Examples of Seth Thomas Adamantine Antique Mantel Clocks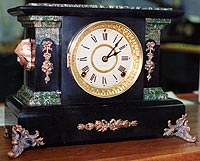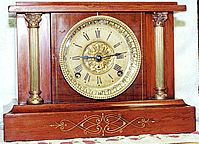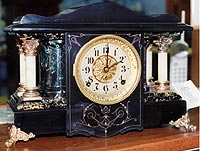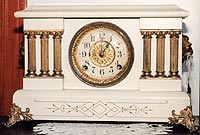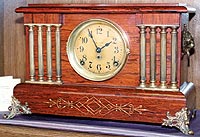 Manufacture Dates of Seth Thomas Adamantine Antique Mantel Clocks
The movement provides a guide to the date of an Adamantine clock. At first, most Adamantine clocks used a modified shelf clock movement (called the "hip" movement because of its shape) with the escapement outside the back plate. Around 1900, the model 89 movement was introduced, having the escapement between the plates. The two types can be distinguished from the front of the clock by the position of the regulating square. The back escapement type (up to ca. 1901*) has the regulating square above the numeral "12". The model 89 has the regulating square below the center of the dial. These two types are evident in the illustrations above.
Many Seth Thomas clocks from 1881 to 1918 have a date code stamped in ink on the case back or bottom. Usually, the year is done in reverse, followed by a letter A - L representing the month. For example, April 1897 would appear as 7981 D. Below are two examples:


Labels from Seth Thomas Adamantine Clock Cases
*Latest example seen with rear escapement movement was dated March 1901 on the case bottom.
References
"Seth Thomas Clocks & Movements", Tran Duy Ly, U. S. Books, ISBN 0-9647406-0-5, Second revised Edition, 1996. Contains many illustrations of Adamantine clocks from Seth Thomas catalogs.
"Celluloid, Adamantine and Seth Thomas", by P.V. Russell and Bob Maciver, NAWCC Bulletin, Volume 30/5, number 256, October 1988, pp. 406 - 407.
"The American Black Mantel Clock", by P.V. Russell, NAWCC Bulletin, Volume 33/2, number 271, April 1991, pp. 151 - 160.
"Phil Russell Request - Dating the Seth Thomas clocks", Research Activities and News, NAWCC Bulletin, Volume 34/1, number 276, February 1992, p. 56.
"Dating Seth Thomas Clocks, a Progress Report and a Request for Additional Information by Phil Russell", Research Activities and News, NAWCC Bulletin, Volume 34/4, number 279, August 1992, pp. 445 - 446.
Note: NAWCC is the National Association of Watch and Clock Collectors, Inc. I highly recommend that you join the NAWCC if you are interested in clocks.