There are 3 styles in the Westclox Lookout Alarm Clock, Timer Style Series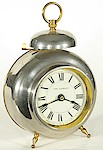 Characteristics:
Leg model, bell on top, 4 inch case with three inch dial, alarm set dial on back.
Dates made:
ca. 1891 - 1925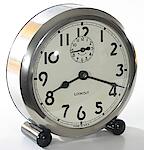 Characteristics:
Ring on top, inside bell, legs shaped like "pontoons". Alarm dial in front.
Dates made:
1933 - 1935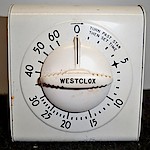 Characteristics:
Square metal case with round dial. Various colors.
Dates made:
1954 - 1965