Westclox La Salle Dura Case 61-G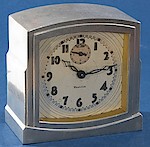 Date Summary:
1931 - 1934


Characteristics:
61-G or 404 on the bottom


Style Information:
Luminous dial. These are often called "Dura Case" clocks because the Dura Company of Toledo, Ohio made the cases. These clocks have a nickel-plated die-cast case with a pewter like finish that Westclox called the "Butler" finish. They have a Baby Ben movement.
Reproductions
A quartz reproduction of this model was introduced ca. 2008. It is called the "Athens" and can be identified from the front by having an alarm setting disc which rotates behind the dial. Also it says "Big Ben" on the dial and has a quartz movement.
There is one model of Westclox La Salle Dura Case 61-G in the database
Westclox La Salle (Dura Case) 61-G. Luminous.
Dates made: January 1931 - December 1934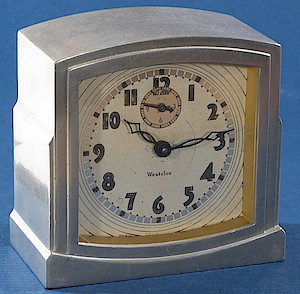 References