Westclox Round Electric Wall Clock Ivory Wall Clock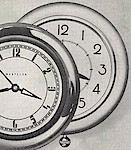 Description:
Electric wall clock in ivory finished round metal case. Manual starting motor.
An attractive, moderately priced Westclox Electric Wall Clock . . . 4 inch dial . . . case 5 3/4 inch in diameter . . . suitable for the kitchen, bathroom, sunroom, library or wherever good timekeeping is needed. Rounded metal case, lacquered. Metal dial with legible numerals and hands. Red sweep second hand. Convex glass. Simplified manual starting, forward motion only. Low speed motor. Conveniently located setting knob and starting lever, both being easily accessible from the front. A choice of two attractive finishes . . . ivory or red, both with rich chrome plated bezel. Sells to the consumer for $2.95.
Model Name:
Electric Wall Clock
Westclox Sales (Catalog) Number:
851 (
851
)
Date Summaries:
Introduced:
Discontinued:
Initial Retail:
$2.95
(USD)
Motive Power:
A/C (electric mains powered)
Model Type:
Clock
Company:
Westclox
Usage Locations:
Wall
Functions:
Time
Specifications:
Case Color:
Ivory
Case Material:
Metal
Case Trim Color:
Chrome Plated
Dial Color:
Ivory
Dial Material:
Painted metal
Case Diameter:
5 3/4 inches
Dial Nominal Diameter:
4 inches
References
Documents Showing the Westclox Round Electric Wall Clock Ivory Wall Clock:
This item is shown for the historical record, it is not for sale.
Page Created: 2014-11-05 Page Modified: 2020-12-25