Westclox Columbia Bantam Ivory Alarm Clock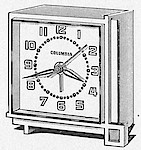 Description:
Bantam electric alarm clock in ivory case. Non-luminous dial.
Model Name:
Bantam
Model Numbers:
Westclox Sales (Catalog) Number:
20109 (

20109

)
Model Number:
S10-M (

S10M

)
Date Summaries:
Introduced:
Discontinued:
Motive Power:
A/C (electric mains powered)
Model Type:
Clock
Maker:
Westclox
Usage Locations:
Shelf
Functions:
Time
,
Alarm
Specifications:
Case Color:
Ivory
Case Material:
Plastic
Brand (if different than marketing company):
Columbia Time Products
History
Not shown in Westclox catalogs. The looseleaf material catalog, page 64-2, shows a drawing of this clock, and it says Columbia on the dial.
From Gary Biolchini: Bill, The only reference that I have on this model is from the Parts Price List + Repair Instructions Book. This series of two (at least) books was published in 1956 and pages were updated at least until 1968 (the newest that I have). This model uses the S10-M motor and is not found in any of my catalogs, which it would not if it was sold by Columbia Time Products. The pages in this reference list it as made in 1962 and 1963 with no later dates (may be because I do not have a later page update?) I do not have nor have I seen an example of this model. My reference does not say Columbia Time.
References
Pictures of the Westclox Columbia Bantam Ivory Alarm Clock:
This item is shown for the historical record, it is not for sale.
Page Created: 2013-12-13 Page Modified: 2013-12-15