Seth Thomas Staunton 1e Shelf Clock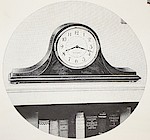 Description:
Catalog description:
With self-starting electric movement. Strikes hours and half-hours on coiled gong of bell metal
To see the Staunton is to be impressed by its pleasing symmetry and well-balanced appearance. The natural beauty of richly finished wood is accented by the gracefully sweeping lines of the tambour design. Cabinet is mahogany with overlaid front panel of distinctly grained crotch mahogany veneer. 5-inch dial is in light ivory with numerals and hands in deep brown. Fully polished sash. Height 8 1/8 inches. Width 17 1/2 inches. Depth 4 3/8 inches. Packed singly. Approximate shipping weight 8 pounds.
Model Names:
Model Name:
Staunton 1E
Model Listing Name:
Tambour
Approximate Date:
Example Retail:
$16.50
(USD)
Motive Power:
A/C (electric mains powered)
Model Type:
Clock
Company:
Seth Thomas
Usage Locations:
Shelf
Functions:
Time
,
Strike
Specifications:
Case Color:
Mahogany
Case Material:
Wood
Dial Color:
Ivory
Dial Material:
Painted metal
Height:
8 1/8 inches
Width:
17 1/2 inches
Dial Nominal Diameter:
5 inches
Minute Hand Length (center to tip):
2 3/8 inches
Dial Minute Track Diameter:
4 3/4 inches
Country of Origin:
USA
References
Pictures of the Seth Thomas Staunton 1e Shelf Clock:
This item is shown for the historical record, it is not for sale.
Page Created: 2012-09-11 Page Modified: 2012-09-11