Alarm Clock
Summary:
The fundamental design of the Big Ben alarm clock movement.


Patent Dates
Application Date:
1908-07-01
Issue Date:
1908-11-17
Patent Numbers
Patent Number:
904333
Serial Number:
441367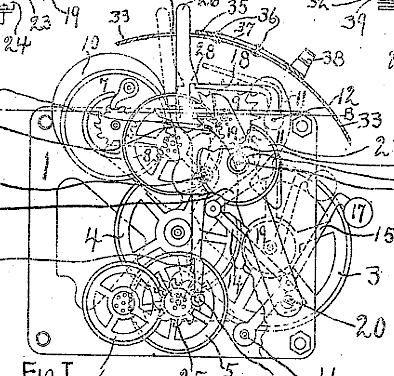 Description:
The Big Ben movement is based on the normal Western Clock Manufacturing Company alarm clock movement, with the several additions. It incorporates an intermittent alarm feature that is an improved version of the "repeating" alarm described in patent #855,775 issued June 4, 1907. The repeat feature can be turned on and off. The alarm train has three gears to give a long alarm ring time. The movement plates are larger, with four steel pillars for rigidity. The alarm hammer is articulated, haveing two pivot points and a linkage. The alarm trip spring pushes the repeat lever out of engagement with the repeat cam, except during the time the alarm is enabled to ring. This eliminates the drag of the repeat mechanism on the time train most of the time (about 10 1/2 out of every 12 hours). The patent shows the slider on the case which pushes the repeat lever out of engagement when the alarm is set to "Steady".
Inventor Information:
Geroge Kern, Of Peru, Illinois, Assignor To The Western Clock Manufacturing Company, Of La Salle, Illinois, A corporation of Illinois.


Patent Type:
Utility


Patent Country:
United States


Patent Categories:
Windup Clock; Alarm Mechanism for a Clock


Patent Companies
Assignee:
Western Clock Manufacturing Company
User:
Westclox
Patent Personnel
Inventor:
Kern, George
Witness:
Samson, C. L.
Witness:
Radtke, William
Witness:
Dauber, Oscar
Attorney:
Neureuther, Andrew
Patent URLs:
U.S. Patent Database; Google Patents