Westclox Byron Red Alarm Clock, Document Model Information, Westclox, Canada Ca. 1954 Catalog -> 2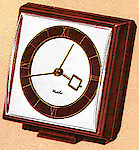 Model Name:
Westclox Byron Red


Document Name:
Westclox, Canada ca. 1954 Catalog -> 2


Document Date:
ca. 1954


Doc Model Information Text:
Model Description: BYRON ELECTRIC ALARM—60 cycles only. A skillful blend of traditional and modern design for gracious living. At home in the bedroom or drawing room, study or living room. Gold-colored Roman numerals contrast with colored metal case. Bell alarm. Non-breakable domed crystal. Cushioned base. 5 1/4" high. Plain dial, Silver or Red colors.


Doc Model Information Photos