Westclox Sphinx Mahogany Plain Alarm Clock, Document Model Information, Westclox, Canada Ca. 1954 Catalog -> 3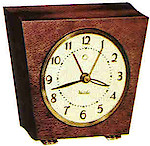 Model Name:
Westclox Sphinx Mahogany Plain


Document Name:
Westclox, Canada ca. 1954 Catalog -> 3


Document Date:
ca. 1954


Doc Model Information Text:
Model Description: SPHINX ELECTRIC ALARM—60 cycle only. Modern wood case suitable for night stand, desk or table. Cushioned base, gold-color trim and feet, sweep hand. Bell alarm. Only 4 1/4" high. Mahogany finish. Plain and Luminous dials.


Doc Model Information Photos